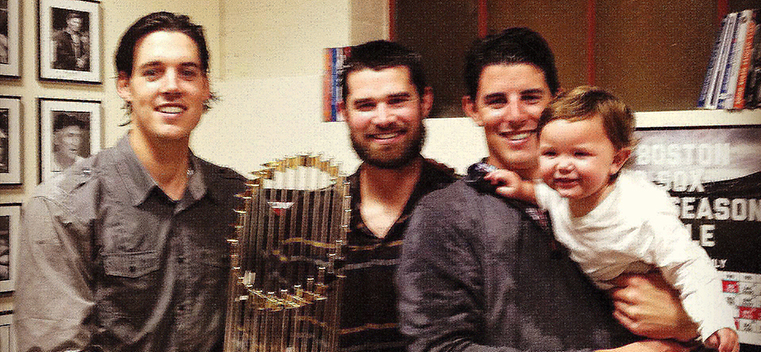 Luke Farrell, far left, with his brothers and niece after the Red Sox won the World Series. The Farrells' father, John, is Boston's manager.
Fenway's First Family
Story Tools
Share this story
Tell us what you think. E-mail comments or questions to the editors at letters@northwestern.edu.
Ever wonder about those strange designations we use throughout Northwestern to identify alumni of the various schools of the University? See the complete list.
Find Us on Social Media
Luke Farrell celebrated Boston's World Series title with his father, Red Sox manager John Farrell.
Former Northwestern pitcher Luke Farrell, son of Boston Red Sox manager John Farrell, was in the stands for Boston's World Series–clinching win. A sixth-round selection by the Kansas City Royals, Farrell spoke with Northwestern magazine's Jeremy Woo about October baseball and what's next in his career.
You were around for the 2007 Red Sox title (when John was Boston's pitching coach). What was the biggest difference this time around?
There was a bigger sense of this really being my dad's team, a big accomplishment on his part. With them winning at Fenway, you really got to see the reactions of the crowd, and I know it was a great thing for that city.
What was the energy like in the stadium during Game 6?
It was loud. It was great, because we scored early, and there was a lead they maintained throughout the game, so there was a feeling that this was it, that they were going to win. The atmosphere was like a big party inside Fenway, and it was a lot of fun.
Did you grow a beard in support of the team?
(Laughs) No. Unfortunately, I don't even have the ability to grow a beard ... but I wish.
What was your dad like after they won?
Ecstatic. I think he was very relieved it was over. It had been a stressful few months, especially that last month. They play 162 games and then go play for another four, five weeks — I think it takes a toll on you. It was almost like he got to breathe a little bit, that they had finally done it.
At the start of the season, did you think it was possible for the Red Sox to go from being projected as a last place team to first? Did your dad do anything special to help make it happen?
I absolutely thought they had a chance. Their goal in the offseason was to acquire not only great clubhouse guys but great competitors, and that was the persona of the team throughout the year. I don't think my dad pulled off any magic, but one of the biggest things he brought was his ability to be consistent and to bring the right attitude and work ethic every day. That's something he's always had.
What's your dad like as a manager?
He puts the players' priorities first. He's obviously a great baseball mind and knows a lot about the game, but I think he always has the attention of the players at hand, and that's one of the biggest reasons for his success and why his players respond so well to him.
Who's you favorite Red Sox player?
I'm a big fan of Dustin Pedroia and David Ortiz, both of them. I really respect the way Dustin plays the game. He plays harder than just about anyone else out there. He's a fiery guy and plays bigger than his physical presence, that's for sure. David Ortiz, his ability to come up clutch so many different times. He has so much confidence in his ability, and that's something to live up to.
Growing up in Ohio, what team did you root for?
I was an Indians fan. My dad played for the Indians [Farrell pitched for Cleveland from 1987 to 1990 and again in 1995] and then worked for them [he served as director of player development from 2001 to 2006]. I went to high school about two minutes from Progressive Field, which was Jacobs Field at the time.
What's new with your baseball career?
After I got drafted in June, I played out in Idaho over the summer [with the Royals' rookie-ball affiliate Idaho Falls Chukars]. I'm back in Evanston now, graduating. I've got five classes left this quarter. I'll finish up and then get back down to Arizona in January.
Does it ever cross your mind that someday you might get to play with or against some of these guys?
Yeah, absolutely. My brother [Jeremy, last an infielder with the Chicago White Sox organization] had a chance to play against my dad in spring training games when he was with the Pirates. I know that was a cool experience for both of them. Hopefully I can toe the rubber against my dad someday, or play for him. That'd be cool too.