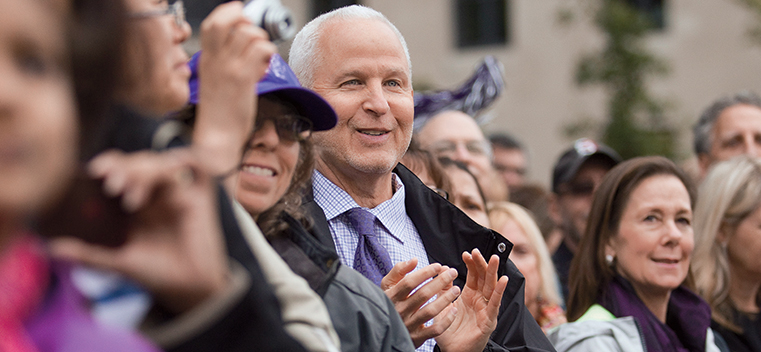 Photo by Ray Whitehouse (J12).
Building on Success
Story Tools
Share this story
Tell us what you think. E-mail comments or questions to the editors at letters@northwestern.edu.
Ever wonder about those strange designations we use throughout Northwestern to identify alumni of the various schools of the University? See the complete list.
Find Us on Social Media
Dear Northwestern alumni,
Northwestern begins its new academic year this month, and I'm pleased to report that the University does so in an extremely strong position. To be sure, we face the same challenges and changes that are occurring throughout higher education, and this year will be a critically important year for the University in many ways. However, Northwestern is unquestionably poised for additional significant accomplishments that will build on the many that have occurred in our 162-year history.
Like the undergraduate students who graduated in June, I came to Northwestern four years ago. And like them, I've learned a lot in that time, particularly about Northwestern's remarkable strengths. One of the things that makes Northwestern unusual is that we are a top research university and, at the same time, a great teaching institution. We do serious, cutting-edge research every day, attracting approximately $380 million annually in federal research grants — placing us among the top 25 such universities in the country, according to the National Science Foundation — and more than $500 million a year in total research grants. The planned construction of a major new biomedical research building on the Chicago campus, as well as continued improvements to our science and engineering facilities in Evanston, will enable us to do even more of this important work.
I've also come to believe that Northwestern is just the right size. With approximately 8,000 undergraduate students and an equal number of graduate and professional students, we've found the right balance. Thanks to our relatively small size and the dedication of our faculty to teaching — which, in itself, is somewhat unusual at major research universities — we can offer small classes and seminars to our undergraduates. At the same time, our top-flight professional schools and graduate programs are large enough to provide the critical mass needed to make them highly successful. 
A third activity that sets us apart is that we compete in intercollegiate athletics at the highest level. I understand clearly that for many of you Northwestern athletics was not a major part of your experience here. And I assure you that as a university president I am well aware of the problems and pitfalls that exist in college athletics. But athletics is also a unifying experience, both for our students and our alumni. Therefore, we intend to continue to approach athletics the Northwestern way: competing successfully at the highest level, but always understanding that our academic mission comes first and that we will not do anything to damage its integrity. We've done that, as demonstrated by our rank (third) in the NCAA Academic Progress Rate, and we will continue to do so.
Other important factors, such as our commitments to admitting students without regard to their ability to pay and providing the necessary financial aid for all of our undergraduate domestic students to attend Northwestern, also make us unusual. There are approximately 3,400 nonprofit colleges and universities in the United States, but only a handful of them are private institutions that do great research, offer outstanding undergraduate teaching and play top-level athletics. The group includes Stanford, Duke, Northwestern and a few others. For those of you who remember your math classes, essentially we're at the intersection of a very small area in a very large Venn diagram.
So we're in a good place; now where do we go? To even greater heights. Our strategic plan, Northwestern Will, detailed four key pillars for our future success: Discover, Integrate, Connect and Engage. We have challenged ourselves to continue our important research work and provide more opportunities for students to engage in it; to create a foundation for innovation; to stimulate new approaches to learning; to connect our community more closely; and to expand our impact both in our hometowns of Evanston, Chicago and Doha and around the world. Those are ambitious goals, but we're already making progress. With your assistance, we will be successful in those efforts.
A key goal in the strategic plan is to increase the engagement of our alumni with the University. You can now do so through Our Northwestern, the new online community for alumni.  You can create your own profile, find friends and classmates, network with fellow alumni and students and join online groups with specific interests. And of course, your financial support is also critical to the University's success. Alumni gifts help support everything from financial aid and fellowships for students to pioneering research to residence hall renovations, as well as many other important initiatives. Every gift, regardless of size, is important to advancing Northwestern's missions of teaching and research.
I will visit many alumni groups in the coming year, so I hope to see you at one of those events around the world. In addition, I hope you can return to campus for Reunion and Homecoming Weekend, Oct. 4–6. It'll be a great opportunity to connect with classmates and the University.
Best wishes,
Morton Schapiro
President and Professor