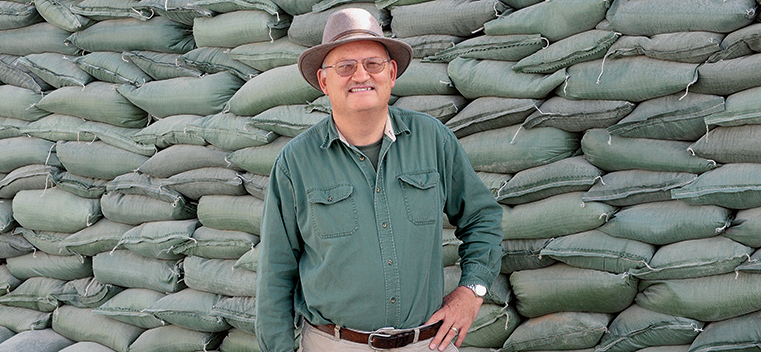 Jonathan Addleton at ­Kandahar Air Field. Photo by Staff Sgt. Ashley Bell, 102nd Mobile Public Affairs Detachment, Mississippi Army National Guard.
Assignment: Kandahar
Story Tools
Share this story
Stephanie Russell is editor of Northwestern magazine.
Tell us what you think. E-mail comments or questions to the editors at letters@northwestern.edu.
Ever wonder about those strange designations we use throughout Northwestern to identify alumni of the various schools of the University? See the complete list.
Find Us on Social Media
Diplomat Jonathan Addleton is helping the U.S. mission in Afghanistan turn its reconstruction and economic development programs in the south over to the Afghan people.
As NATO's International Security Assistance Force works to transfer security responsibility for Afghanistan to Afghan authorities by December 2014, American diplomat Jonathan Addleton is helping guide U.S. civilian efforts and programs in southern Afghanistan, where he is serving as the U.S. senior civilian representative.
Based at Kandahar Air Field, Addleton (J79) has responsibility for U.S. embassy civilian staff assigned to cover four southern provinces, and he serves as the civilian liaison with the U.S. military and ISAF to make sure that the U.S. mission's efforts support the economic and political transitions underway in Afghanistan.
Addleton's 29-year career in the U.S. foreign service and as a U.S. Agency for International Development officer has included postings to Pakistan, Jordan, South Africa, Cambodia and Yemen. He says his job in Afghanistan is the hardest one he's ever undertaken. Just prior to his posting to Afghanistan, Addleton served for three years as the U.S. ambassador to Mongolia, a landlocked country whose economy has thrived in the last decade thanks to the discovery of copper, gold and coal there.
The son of Baptist missionaries from rural Georgia, Addleton was born and raised in Pakistan. After graduating from high school in the foothills of the Himalayas, he traveled overland through Asia and Europe before heading to Northwestern to study journalism. His writings include a memoir on growing up in Pakistan, Some Far and Distant Place (University of Georgia Press, 2002), and, most recently, a book that commemorates the first 25 years of U.S.–Mongolian relations, Mongolia and the United States: A Diplomatic History (Hong Kong University Press, 2013).
Here's what Addleton had to say to Northwestern magazine editor Stephanie Russell about his life and work.
Tell me about your job as the U.S. senior civilian representative in southern Afghanistan.
My role here is similar in some respects to that of a consul general. I represent the U.S. embassy in an area of southern Afghanistan covering four provinces: Kandahar, Zabul, Uruzgan and Daikundi. I also have responsibility for U.S. embassy staff located in this region and serve as a liaison with the ISAF and its contributing nations, which in southern Afghanistan include not only U.S. soldiers but also Australian, Romanian and other international troops. My role is not on the security front but on the political, development and diplomatic fronts.
Southern Afghanistan is an important area. Kandahar is the second-largest city after Kabul in terms of population. It's a large Pashtun city and for a time during the 1990s served as capital for the Taliban-controlled areas of Afghanistan. Mullah Mohammed Omar started the Taliban in an area just west of Kandahar. The last royal dynasty to rule Afghanistan also came out of Kandahar.
The region faces many issues, including poverty, lack of education, poor health, lack of infrastructure, and violence. There are electric power, water and political issues as well. The economy is based on agriculture. In years past, Kandahar was famous for its pomegranates, nuts, melons and apricots — high-value crops that for centuries have been exported to India and elsewhere.
As the senior civilian representative, I have meetings not only with provincial and district governors but also religious leaders, tribal elders and people from the business community, especially on development and economic issues. Ultimately, we're trying to facilitate Afghan efforts to move toward a more peaceful Afghanistan.
How has the phaseout of ISAF troops affected the U.S. mission's presence in southern Afghanistan?
This past year has been a time of real transition for the U.S. mission. When I arrived, we had 130 embassy staff at 14 locations across southern Afghanistan. Most of them were assigned to either military provincial reconstruction teams or district support teams, where a mix of civilian diplomats and reconstruction experts worked closely with our military colleagues and Afghan counterparts to strengthen local Afghan government institutions and make them more effective.
As the transition continues, we now have 30 civilian staff working out of a single location, Kandahar Air Field. Although our embassy staff continue to travel throughout the region, responsibility for programs now largely rests with our Afghan counterparts. As we depart, we're trying to strengthen the Afghan government's ability to implement its own development programs. Good security by itself is not enough; it needs to be accompanied by good governance, which is primarily a civilian responsibility.
Are the Afghan leaders you meet hopeful for a peaceful transition?
They have hope for the future, and they also have concerns for the future. Most people date the unrest back to the Soviet invasion in 1979 — that's 34 years ago.
I sense among many Afghans a longing for peace. The Afghans are basically a free people, but they've reached a situation where they can't travel freely because of checkpoints and fear of IEDs [improvised explosive devices].
So Afghans truly and absolutely want to move beyond that. At the same time they face a brutal enemy, one that has killed hundreds of civilians during just the last three months. Overwhelmingly, the civilian casualties across Afghanistan today are Taliban inflicted.
Do you sense that the Afghan leaders you meet are fed up with the violence?
One day I spoke with an Afghan government official whose 8-year-old son had been killed by a suicide bomber the year before. The boy had accompanied his father to work that day; he was clearly the apple of his father's eye. The man showed me some photos of his son, the last ones taken of him.
A few days later I met with a group of mullahs in a district north of Kandahar and mentioned this boy's death. During our conversation we talked about what it would take to end this violence. In an effort to connect with them, I said that the bomber was probably a teenager. I asked, "What does he say on Judgment Day, that his purpose in life was to kill an 8-year-old boy?"
I got a variety of answers. Three of the four leaders were very sympathetic and said, "Things like this should not happen. This is not what we believe."
The fourth said, "This has happened thousands of times in Afghanistan over the years, and it will continue to happen until there is justice in Afghanistan." As I was leaving the meeting, he took my hand and embraced me. He said, "I don't have a voice. But you can tell people that peace does not come to Afghanistan without justice." When I asked him if there was ever a time when justice had prevailed in Afghanistan, he stated that it had been achieved during the first years of the Taliban, but then they too went off track. As a mullah, he believed that Islamic law was essential to achieving justice.
What's the timetable for the U.S. and ISAF troop pullout?
The December 2014 date for completion of transition is really the security side of the equation. The international commitment is for 10 years beyond 2014. Members of the international coalition forming ISAF have committed to continued development support for Afghanistan, primarily through Afghan government channels. But along with that, Afghanistan has to commit itself to certain actions and accountability measures. The long-term international commitment depends on the actions of the Afghan state.
What are some of the U.S. Agency for International Development projects in southern Afghanistan?
USAID projects in the south focus mainly on agriculture, health, education and improved water use.
For example, in Zabul, one of the provinces where we work, USAID programs have helped expand agricultural production and strengthen markets in Afghanistan and neighboring countries for Zabul's highly regarded almonds and other products. Agriculture will remain the major source of income and employment for Afghans.
USAID has also helped improve the health sector, including expansion of the provincial hospital in Qalat [capital of Zabul], construction of new health centers, and an ongoing and effective polio vaccination campaign that has received international support, including from the World Health Organization and Rotary International.
The USAID-funded Qalat power project, which provides services for 25,000 people, came on line in October 2007, and improvements have also been made in the power distribution system. The fact that the citizens of Zabul are now linked to both radio and cellphones is another enduring legacy of the provincial reconstruction team in Zabul.
How has the educational system improved?
When Taliban rule ended 12 years ago, fewer than 1 million Afghan students were in school, almost none of them girls. Today the number of students is estimated at around 10 million, more than one-third of them girls.
The international community, including the United States, has been a big part of this change. Partly, they have assisted by building and equipping schools. That said, a functioning school building is only one aspect of education; trained teachers and management systems that work are also essential.
I remember visiting one beautiful new school, built by an international donor in an area west of Kandahar, that was sitting empty. A few miles away, I visited another school that met in a mud hut that was crowded and full of students being taught by a dedicated teacher. In the end, education won't happen unless there is also community support, as was the case in that village.
How do you describe your work as the senior diplomat in southern Afghanistan?
My work here involves three different worlds, yet all of them are connected.
One world is made up of the U.S. civilians working with the U.S. mission. When you have 130 people, there are a lot of issues to deal with. Afghanistan is a tough place to work.
The second world is my interaction with the military command. My office is located in the military part of the airfield. I meet regularly with U.S. Maj. Gen. Robert Abrams and his staff to coordinate U.S. civilian programs and strategies with ISAF and our military counterparts.
Working with the military is also the part of my job that brings the war home. I go to all the Purple Heart ceremonies and to the ramp ceremonies at the airport, where hundreds of soldiers and a smaller number of civilians line up to say a final farewell to our "fallen heroes," as they are called, before their remains are flown back to the States. These are very moving events. I didn't expect to experience war in my 50s, but that's what has happened.
And then there's the third circle of activity, with the Afghan people. We try to take opportunities to get out more and interact with Afghans and in some sense encourage a peace process that, ultimately, will have to be determined by the Afghans themselves.
What is your day like?
My day goes from 8 a.m. to 10 at night, sometimes midnight, 6½ days a week. It's a pretty rigorous schedule.
I couldn't bring my family on this assignment. My wife and daughter stayed in Mongolia so my daughter could graduate from high school there. Both my sons are back in the States, one in college and the other in the Air Force. We get three trips during the year to see our families. The American soldiers get one leave a year.
My room has space for a bed and a desk and is considerably smaller than a Northwestern dorm room!
The dining facilities here are quite international, reflecting the fact that people from all over the world live and work at Kandahar Air Field. I often eat at the Asian dining facility, where I can enjoy curry and rice, speak Hindi and Urdu, listen to Bollywood tunes and watch the latest cricket matches.
After you graduated from high school in Pakistan, you took an unusual route to Northwestern. What was Afghanistan like at that time?
I graduated from high school in June 1975. The next day I left with two classmates and traveled by bus and train from Peshawar to Paris, crossing Afghanistan, Iran and Turkey before reaching Europe. That's how I eventually arrived at Northwestern, with a pack on my back. We slept in tea shops, drank tea and ate naan.
When we traveled through Afghanistan, we went from the Afghan border post at Torkham, just beyond the Khyber Pass, to the Afghan border post near Herat, en route to Meshad, Tehran and Tabriz in Iran. Younger Afghans can hardly believe it when I say we traveled across Afghanistan, from Torkham to Herat, without passing through a single military checkpoint.
I tell these stories about what the country was like in the 1960s and '70s when I try to connect with Afghans today. That's part of the conversation about imagining what Afghanistan could one day become again.
Are you worried that, once the ISAF leaves, the Taliban could destroy much of the progress made since 2001?
There is a concern that the Taliban could wipe out the progress made in education and health. There is a level of brutality here that is disturbing, whether it involves civilians killed when their van hits an IED, blown up in a suicide attack in a bazaar or beheaded because a relative works for the government of Afghanistan.
Not long ago the governor in one province announced a policy of "no motorcycles" because a motorcycle is often the preferred mode of transportation for the Taliban to implant IEDs or carry out suicide attacks. The Taliban reacted by announcing a policy of "no schools," resulting in school closures in some places.
But Afghanistan in 2013 is different from what the country was in 2001. Today the Afghans have seen more of the world. There's been a revolution in telecommunications — everybody has cellphones and radios, and more Afghans have access to television than ever before.
These technologies have changed Afghanistan. Afghans still have huge challenges ahead, but they're in a better place when it comes to health, education, communications and their own security forces than ever before.
The Afghans don't want to see these advances destroyed again. The country has faced destruction too many times. After decades of war, they finally want peace.
What will Afghanistan look like when the international security forces pull out?
Afghanistan post-2014 might not be as good as we would like, but it will hopefully be better than we fear. It's not healthy to be dependent on anybody, and I think most Afghans would agree on this. They need to forge their own way.
What do you think the future holds for Afghanistan?
The next chapter is for Afghans to write. In fact, the whole book is for the Afghans to write. Those of us who served here can draw strength from the fact that, for a time, we were part of the Afghan story, working closely with Afghan colleagues and friends, lending both meaning and substance to an enduring partnership between our countries that continues to hold out the promise of a better Afghanistan.
But now it is the Afghans who have to choose and make their destiny.
What's next for you?
My assignment in Kandahar concludes later this summer. Central Asia has been an important part of my life, and I hope to stay in the region. But I could be reassigned to Washington, D.C. Like a soldier, I'll go wherever I'm sent.
Finally, how has your Medill education helped you in your foreign service career?
Before college I attended a small boarding school in the mountains of northern Pakistan, where I edited and produced the monthly school newspaper on an old mimeograph machine that leaked ink. My heart was set on being a journalist and, remarkably, Northwestern accepted me and provided the need-based financial support that allowed me to attend.
After graduating from Medill, I was selected as an intern at the Carnegie Endowment for International Peace in Washington, D.C. That changed my life forever. Perhaps my early life overseas drew me to international work. By my lights, a natural curiosity, interpersonal skills and the ability to communicate are essential in any job. Although I didn't end up as a journalist, I continue to write. So the skills I learned at Medill remain relevant all these years later.