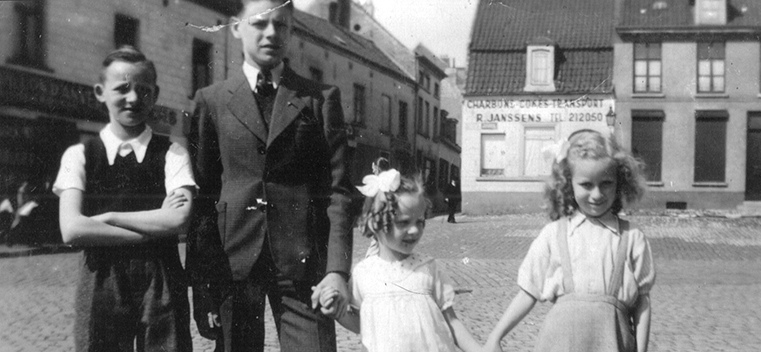 Lillian Schreiber, far right, with, from left, Jacques Opdebeeck, his cousin Georges and Christiane Opdebeeck, coming home from church in Anderlecht, Belgium, on Pentecost in May 1944. Photo courtesy of Northwestern University Press.
Out of Hiding
Story Tools
Share this story
Tell us what you think. E-mail comments or questions to the editors at letters@northwestern.edu.
Ever wonder about those strange designations we use throughout Northwestern to identify alumni of the various schools of the University? See the complete list.
Find Us on Social Media
Northwestern University Press anthology chronicles the lives of Jewish children hidden during the Holocaust.
Lillian Schreiber Zoloto was 4 years old when her Jewish parents sent her into hiding with a pro-Resistance Catholic family in Brussels, Belgium, in 1942. She grew to love her second family, and at the war's end, Zoloto found it difficult to reunite with her parents, who had become almost total strangers after four years.
Zoloto's account is one of the stories included in the Northwestern University Press anthology Out of Chaos: Hidden Children Remember the Holocaust (2013). The anthology was edited by Elaine Saphier Fox (SESP55), who coached members of the Hidden Children/Child Survivors Chicago group to write their recollections. It includes stories, poems and vignettes written by Jewish survivors from all over Europe.
"These authors are the last eyewitness survivors, and they have an important story to tell and lesson to teach us and future generations," says Fox, a practicing labor lawyer.
Northwestern professor Phyllis Lassner, who gave the authors writing advice, says the writers faced several obstacles during the writing process due to their young age as hidden children, the time that has passed and the traumatizing nature of their memories.
Lassner, who will use the text in her course "Writing About Children and the Holocaust," says the book will resonate with students, allowing them to see the world from the perspective of children "who were hidden in a closet, hidden in a convent or on the run with their parents or on their own. These stories read like dark fairy tales, but they are all too real."