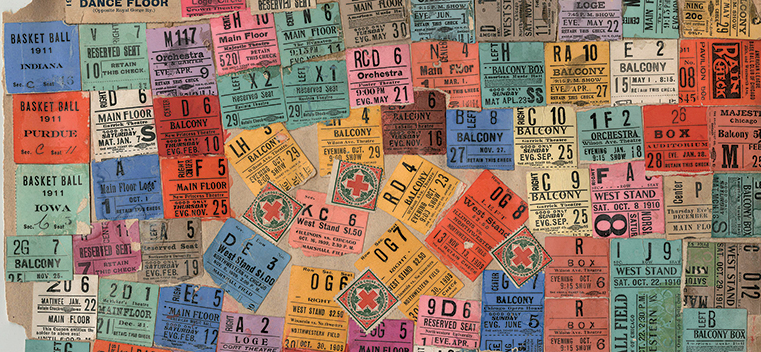 The scrapbook of Paul Luker (L1914) documents his time at Northwestern and the University of Michigan. It includes a collage of colorful ticket stubs from events he attended. Luker, who was dismissed from the University for publishing an unauthorized edition of the Daily Northwestern, later earned his law degree at Northwestern and became an Illinois state's attorney.
Collections: Memory Pieces
Story Tools
Share this story
Tell us what you think. E-mail comments or questions to the editors at letters@northwestern.edu.
Ever wonder about those strange designations we use throughout Northwestern to identify alumni of the various schools of the University? See the complete list.
Find Us on Social Media
University Archives exhibit highlights alumni scrapbooks.
Elizabeth "Bessie" Hobart (WCAS1913) had a busy social life at Northwestern in the early 1900s. She attended theater shows, black-tie parties, sorority events — her scrapbook reveals it all, with treasured tickets and invitations, as well as pressed flowers, dance cards and love letters.
Her mementos and the collections of others offer a view of Northwestern's history through the eyes of former students. Unlike other official records of University life, scrapbooks provide a glimpse of what students of the past deemed memorable.
"We like to show them off because they are colorful records of people in their times," says University archivist Kevin Leonard (WCAS77, G82). "We hope today's students will take an interest and consider how they document their own lives. While many favor the reach and ease of use of Facebook and other forms of digital record keeping, not everyone understands how ephemeral those records can be. In this era of social media and email, it is difficult to secure physical records of events and activities."
University Archives has collected about 200 scrapbooks from alumni and their families. Some offer snapshots of the socialite life of female students in the 1920s. Others, including many from the 1950s, are filled with sports clips and tickets to football games.
University Archives recently acquired 58 scrapbooks documenting the life of sports legend Otto Graham (SESP44). The books, created by Graham's mother and, later, his wife, Beverly Collinge Graham (SESP46), showcase Otto's life from childhood through his remarkable career as a pro athlete and coach, most notably his years with the Cleveland Browns (see "Top Cats," page 32). One of Graham's scrapbooks, along with a few from earlier and later decades, will be on display in a University Library exhibit from Sept. 9 through Jan. 3. Visit the exhibit website.