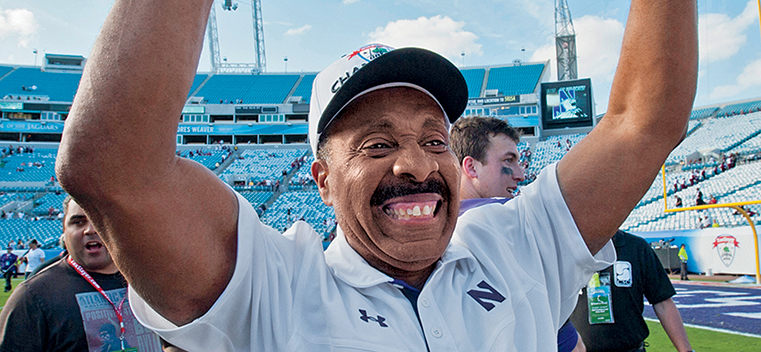 Jerry Brown celebrates after the Wildcats' win at the 2013 Gator Bowl. Brown has been a part of 137 Wildcat wins, a quarter of the all-time total, as a player and coach. Photo by S. J. Carrera Inc. 2012–13.
'Cats' Coaching Dean
Story Tools
Share this story
Tell us what you think. E-mail comments or questions to the editors at letters@northwestern.edu.
Ever wonder about those strange designations we use throughout Northwestern to identify alumni of the various schools of the University? See the complete list.
Find Us on Social Media
Jerry Brown has been an essential part of the Wildcats' football resurgence.
It's been quite a ride for one former Wildcat turned coach. Assistant head coach Jerry Brown (SESP73) has been a mainstay in Evanston throughout Northwestern's well-chronicled gridiron turnaround over the past 20 years. The "dean" of the staff, Brown coaches the Wildcats' defensive secondary and has helped guide Northwestern to a record five-straight bowl games and the 2013 Gator Bowl title.
Brown was a wide receiver and All–Big Ten defensive back for coach Alex Agase in the late 1960s and early '70s. He was drafted by the San Francisco 49ers in 1972 and went on to coach on the high school, college and professional levels. He says his most influential experience was a 1987 graduate assistantship with the San Francisco 49ers, where he worked under head coach Bill Walsh, who gave Brown the coaching credo that still guides him to this day: "Be who you are."
"If you try to be something that you aren't, players will see through you, label you as a phony, and they won't play for you," Brown says.
Brown joined Gary Barnett's staff in 1993 and remembers the "renewed enthusiasm" that Barnett and his staff brought to Evanston. Despite the Wildcats' dour decade, Barnett refused to get mired in negatives. The new focus paid off, and after three years Northwestern was ready to shock the nation.
"I thought we had a shot at getting into a bowl game, but who would've guessed we'd be in the Rose Bowl?" Brown says of the 1995 campaign, when he coached three Northwestern defensive backs to All–Big Ten honors. He takes pride in knowing that the Wildcats are no longer a perennial pushover in the Big Ten as they were when he joined Barnett's staff.
And when Northwestern won the Gator Bowl in January and Pat Fitzgerald (SESP97) won his 50th game, the most ever for a Northwestern head coach, Fitzgerald humbly deflected the praise. "Jerry Brown got win No. 119 today," he said. "He's the all-time winningest coach."