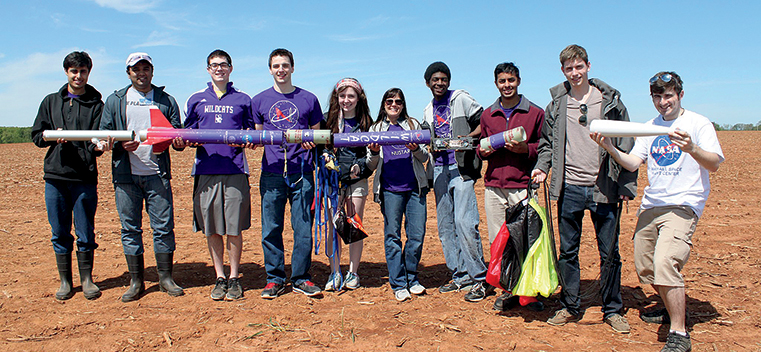 The NUSTARS team in Huntsville, Ala., for NASA's University Student Launch Initiative in April
Blast Off
Story Tools
Share this story
Tell us what you think. E-mail comments or questions to the editors at letters@northwestern.edu.
Ever wonder about those strange designations we use throughout Northwestern to identify alumni of the various schools of the University? See the complete list.
Find Us on Social Media
NUSTARS rockets to new heights.
The Northwestern University Space Technology and Rocketry Society launched a homemade rocket 5,286 feet into the Alabama sky in April for NASA's University Student Launch Initiative.
The team's 9-foot rocket flew 6 feet over the 1-mile height goal, setting an all-time record for the competition with NUSTARS' very first rocket.
"The goal is 5,280 feet, and 5,600 is the max, so it's a very small range," says senior Dan Abramov, who is studying physics and astronomy. "Some teams weren't able to get theirs off the ground, some went all the way to 6,000 feet, so to be within 6 feet was pretty amazing."
Unfortunately going over the height limit resulted in penalties, and the team didn't win the first-place Altitude Award, but it did take second place and set a record as the team to come closest to the 1-mile target in the history of the competition.
The team was one of more than 40 selected for NASA's student launch in Huntsville, Ala. The five-day competition included exclusive tours at NASA's Marshall Space Flight Center, where the students had the opportunity to observe and ask questions of NASA employees. The participants also explored aerospace manufacturing labs and watched test flights of propulsion vehicles. 
Started in 2010 as the Northwestern University Microgravity Group, the club sent members to participate in the 2011 Reduced Gravity Education Flight Program. Relaunched as NUSTARS in 2012, the group designs, builds and launches microsatellites, microgravity experiments and high-powered rockets.
Building on its launch success, the team plans to enter NASA's satellite-building competition in the coming year. NUSTARS founder and director Abramov also hopes to participate in NASA's eXploration Habitat Academic Innovation Challenge — a competition for the creation of a space habitat, a "tiny house" for NASA.
"You're not making something that could actually land on the moon," Abramov says. "But you are making a small habitat that can recycle its own water, recycle its own air and create its own power."
For each program the team follows guidelines and specifications straight from NASA. "When the club takes on new members," Abramov says, "we tell them that we are acting as NASA contractors."