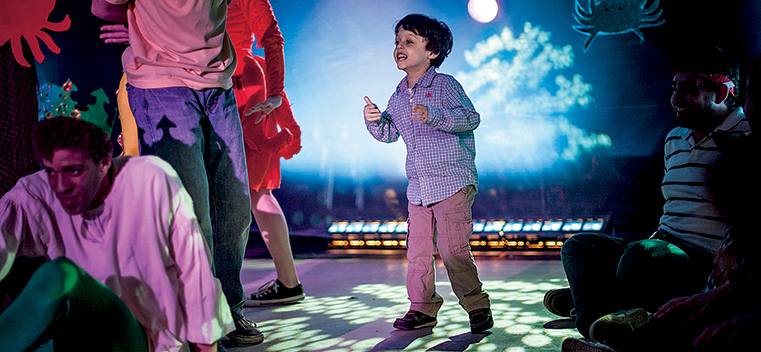 Photo by Rafi Letzter (J15).
An Undersea Adventure
Story Tools
Share this story
Tell us what you think. E-mail comments or questions to the editors at letters@northwestern.edu.
Ever wonder about those strange designations we use throughout Northwestern to identify alumni of the various schools of the University? See the complete list.
Find Us on Social Media
Children with special needs enjoy a one-of-a-kind theater show.
The ocean came to life for a select number of audience members who attended an unusual theater performance — one created and performed for children with an autism spectrum disorder.
Dressed as pirates, undergraduate "adventure guides" led each child, one by one, to the performance area in Shanley Pavilion, where an octopus, sea horse and puffer fish had been brought to life in glittering, jewel-toned costumes by Northwestern actors.
The 10-actor Theatre Stands with Autism group staged Diving In!: An Underwater Treasure Hunt over Mother's Day weekend. Attendance for each 30-minute performance was limited to five children, who explored and experienced an interactive, multisensory show. To ride the ocean current, for example, pirate adventure guides and their travelers were spritzed with water. Later in the performance the audience members drew chalk flowers for their sea garden, and the children were proudly awarded seashell buttons for completing the adventure. The show left everyone beaming.
For business producer Anna Marr (C13) and artistic producer Melanie Gertzman (C13), those smiles made the cast and crew's hard work worth it. The show, two years in the making, was produced through a partnership with Purple Crayon Players and Northwestern's chapter of Autism Speaks U. The cast members attended a quarterlong student-led seminar on children with autism spectrum disorders. To prepare the children for the show the cast created a social story — a step-by-step video explaining how the performance would work and what it would look like.
Director Darcy Coussens, a rising senior, says the most fulfilling part of the performances was the audience reaction. Marr says one parent came up to her after the show and said, "This production isn't just an accommodation, it is for us. This was the best Mother's Day gift ever."
Theatre Stands with Autism will continue the program with a new show next spring.