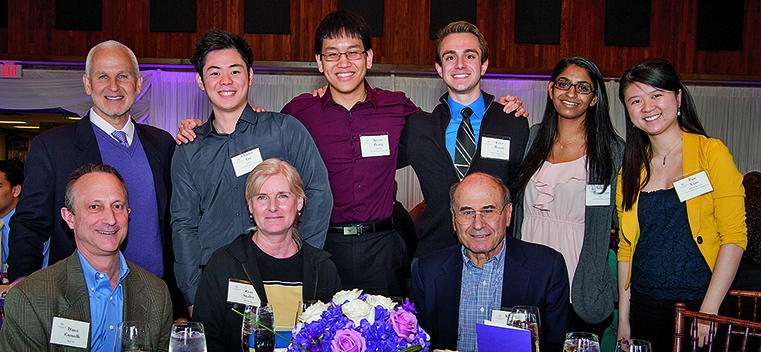 Seated, from left, Dana Comolli (McC81), Cori Staley (WCAS80) and Ken James (L59). Standing, from left, President Morton Schapiro, rising senior Charles Lin, Kevin Zhang (McC13), rising sophomoreTyler Mount, rising junior Natasha Ramanujam and rising sophomore Pan Xiao.
Celebrating Scholarships
Story Tools
Share this story
Watch a video from the 2013 Scholarship Luncheon.
Tell us what you think. E-mail comments or questions to the editors at letters@northwestern.edu.
Ever wonder about those strange designations we use throughout Northwestern to identify alumni of the various schools of the University? See the complete list.
Find Us on Social Media
Annual luncheon highlights the life-changing academic opportunities that scholarships provide.
When Esther Benjamin (WCAS79, G80, 88) stepped foot on the Northwestern campus as a new student in 1975, she realized a dream two decades in the making. Benjamin had attended H. Sophie Newcomb Memorial College (the women's college of Tulane University) in New Orleans in the 1950s, but like many women of her generation, she left school early to get married.
"She was always very upset with me for taking her out of school," her husband, John Benjamin, recalls. "She always had the urge to eventually go back."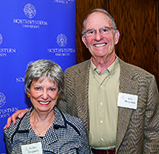 At age 40 Esther did just that. She enrolled at Northwestern, and seemingly overnight the dining room table of the Benjamins' Highland Park, Ill., home became a repository for books and stacks of paper.
At Northwestern Esther discovered an enduring passion for social research, reveled in the opportunity to explore diverse subjects ranging from classical literature to German film and forged lasting friendships with classmates who were, she proudly notes, the same age as her children.
"I was thrilled to be back and experiencing a lot of things that I had missed out on before," she says. "I had wondered how I was going to get along with all these young people, but they were just delightful."
Thanks to John's career as a financial executive, Esther didn't have to worry about paying for school. But she observed that not all of her classmates were so fortunate.
"I got to know a lot of students who were on scholarship," she says. "It was exciting to see them take these classes and to discover what fine students they were. And I admired them. I thought what they were doing was wonderful."
Those students served as the inspiration for what would eventually become the Esther and John Benjamin Scholarship Fund.
On April 20 the Benjamins were among 200 guests of honor at the Northwestern University Scholarship Luncheon — the second annual event celebrating Northwestern's scholarship donors and student scholarship recipients. The luncheon featured remarks by President Morton Schapiro, Trustee Donald Perkins, and then-senior Peyton Lee (WCAS13), a scholarship recipient and former member of the Northwestern Debate Society. Perkins, the retired CEO of the Jewel supermarket chain, and Lee shared similar stories of growing up in single-parent households with limited resources — and they both described how scholarships helped change their trajectories.
School of Education and Social Policy rising senior Daniel Nissani, one of the students in attendance, could certainly relate. The native of Queens, N.Y., said his dream of going to Northwestern would have been out of reach without the financial support he received.
"The whole reason my mom and dad got divorced was because of money, and it was a very strained relationship until I got my scholarship," Nissani says. "Once I got it, my parents were like, 'That's one son we don't have to worry about.' It created a huge amount of relief for my family and generated a better relationship between my parents."
Nissani is now president of the Northwestern Quest Scholars Network, a student group for high-achieving students from low-income backgrounds. He said he hopes to pursue a career in teaching, academia or nonprofit work focused on college access.
"To be able to go to a college when your family's income level is less than the tuition sticker price is an unbelievable thing," he says. "This four-year experience changes you for the rest of your life and opens doors to new opportunities."
Some of the students at the luncheon had the opportunity to meet the donors who supported their scholarships. Lee, an Owen L. Coon Fund Hardy Scholar, was seated next to Erik Segall of the Owen L. Coon Foundation.
"He told me the organization meets in June, and he was excited to be able to tell the other board members about the person who received this scholarship," Lee says. "And it was great for me to be able to put a face with the organization."
For scholarship donors like the Benjamins, the experience was equally gratifying. "We wanted to support this scholarship while we were still around to see it bear fruit," says John, who traveled with Esther from their home in Jupiter, Fla., for the occasion. "We missed this affair last year, so I'm really happy that we're able to be here for this one."