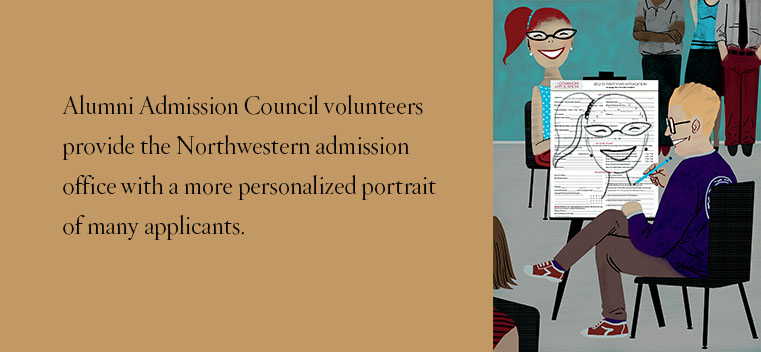 Illustration by Dave Wheeler.
Beyond the Application
Story Tools
Share this story
To find out how to get involved in an Alumni Admission Council near you, contact AAC@u.northwestern.edu.
Tell us what you think. E-mail comments or questions to the editors at letters@northwestern.edu.
Ever wonder about those strange designations we use throughout Northwestern to identify alumni of the various schools of the University? See the complete list.
Find Us on Social Media
Alumni volunteers help Northwestern discover the people behind the paperwork.
On a chilly weekend in January, Jim Lee (McC88) and a team of 20 Northwestern alumni set up shop at Detroit Country Day School in suburban Beverly Hills, Mich. Over the next two days dozens of youngsters — including many of the most academically accomplished high school students in the state — walked through the doors, eager to make a good impression and boost their chances of becoming Northwestern students.
The questions posed by the alumni interviewers — what are your interests, why Northwestern, how might you go about choosing a college — weren't exactly the kind of hard-hitting queries liable to make your palms sweat.
But then again, that really wasn't the point.
"Our evaluations aren't going to make or break someone's admission chances," says Lee, co-director of the Detroit Alumni Admission Council. "We're just trying to provide extra information that Northwestern might not get in a student's application."
Yet, while interviews are not required for admission, extra information has never been more valuable to University decision-makers. In selecting the soon-to-arrive class of 2017, Northwestern's Office of Undergraduate Admission sifted though a pool of 32,772 applicants (10,000 more than it received in 2007). That leads to a lot of tough decisions — decisions that mere numbers might not adequately inform.
"When you have that many applicants for only 2,000 spots in the freshman class, you have to have something to consider beyond test scores and lists of activities," says Andrew Linnehan (J05), an assistant director of admission at Northwestern and coordinator of the Alumni Admission Council.
Thanks to the dedication of AAC members, the admission office is able to get a more personalized portrait of many applicants. Allen Lentino, senior associate director of admission and financial aid and director of the AAC, estimates that for the class of 2017 about 1,400 alumni conducted 4,512 applicant interviews. Interviews were conducted at more than 100 separate councils worldwide, including several that formed recently in South America, Asia and Europe. Domestically they range from big-city councils in Los Angeles and New York City with dozens of members to one-person operations in less populous areas.
"These people bleed purple," Lentino says of the AAC volunteers. "They have an enthusiasm for Northwestern that they want to share."
Although the primary function of the councils is to assist the admission process, alumni also lend a hand in recruitment. Every summer and early fall, council members represent Northwestern at high school college nights or accompany admission staff at other outreach events around the country. The volunteers put a human face on the Northwestern experience, answering a battery of questions from prospective students and their parents.
When Lentino spoke to a group of high school juniors in Long Island, N.Y., at a Northwestern regional information session in August, he was flanked by six members of the Long Island AAC.
Marci Zapolsky Peller (McC86) and her husband, Paul Peller (WCAS86), co-direct the Long Island AAC. She says attendees came up to her after the presentation to hear more about her personal experience as an engineering major. "People really connect with hearing your personal experience," she says. "Also, Long Island is a flight away from Evanston. That makes parents a bit nervous about sending their kids to Northwestern, even though it's a fabulous school. Part of our job is to get people more comfortable with that idea."
Marci Peller, who has served as an AAC volunteer for more than 15 years, and Lee say they have found their experience with the AAC well worth the long hours they devote each year. Both relish the opportunities to socialize with fellow alumni and interact with outstanding students.
"By far the best is when you get a note either from a current student or a recent alum whom you interviewed just a few years prior," says Lee. "They remember you and tell you how much they loved their Northwestern experience. You just can't beat that."