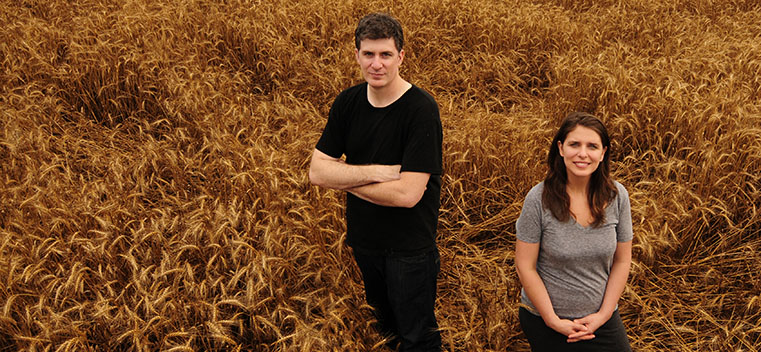 Ben Knight and his wife, Vivian Howard. Photo by Rex Miller/Markay Media.
Ben Knight: Food for Thought
Story Tools
Share this story
Tell us what you think. E-mail comments or questions to the editors at letters@northwestern.edu.
Ever wonder about those strange designations we use throughout Northwestern to identify alumni of the various schools of the University? See the complete list.
Find Us on Social Media
Ben Knight (WCAS98) and his wife, award-winning chef Vivian Howard, opened their farm-to-fork restaurant, Chef & the Farmer, in June 2006 in Kinston, N.C. Located halfway between Raleigh and the Atlantic coast in one of the poorest congressional districts in the country, their high-end, seasonal restaurant will be the focus of an upcoming PBS series, A Chef's Life. Each episode of the show will focus on a different local ingredient and how the couple incorporates that food into their family life and restaurant. As they look for new recipes, the former New Yorkers encounter many big characters in their small town, including local vintners, oyster farmers and an overalls-clad, shirtless neighbor who teaches Howard to make pork cracklings. Although Knight says the business has never seen a slow day, it has not been without challenges, including a 2012 kitchen fire that all but destroyed the restaurant. The couple also welcomed twins shortly after the restaurant opened. Over the summer they ran an Indiegogo campaign to cover post-production costs and build an invested audience before A Chef's Life premieres in early September.