Shanley Hall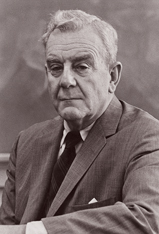 This nondescript one-story building was constructed and opened in 1943 as classrooms for V-12, the Navy College Training Program. It remained a classroom building for the military until the end of World War II in 1945.
It was used as a warehouse for a number of years and then reopened in the mid-1950s as a brown-bag lunchroom for commuter students, mainly in commerce and engineering.
J. Lyndon Shanley, an English professor at Northwestern, had taught English in the V-12 program. He had an office in Memorial Hall, otherwise known as the "Little Red Schoolhouse" and home to the School of Commerce.
According to Shep Shanley, associate director of admission at Northwestern and son of J. Lyndon Shanley, someone from Facilities stopped by the School of Commerce to hand over the keys when the building was shut down in 1946 and became a storage space. "What name should I put on the key tag?" he asked. School of Commerce dean Homer Vanderblue looked at J. Lyndon Shanley and said, "Shanley Hall."
Shep says his father laughed about the name and said, "This is the only building on campus named after somebody who's alive."
J. Lyndon Shanley was a noted authority on the writings of Henry David Thoreau and served as president of the Thoreau Society of Concord, Mass., in 1958–59.
His wife, Barbara Smith Shanley (GSESP37), taught in Northwestern's art history department from 1935 to 1941. The Barbara Shanley Fund for Graduate Travel was established by family and friends in her memory to support graduate travel for dissertation proposal research.
Shanley Hall was home to the much-beloved Amazingrace coffeehouse from 1972 to 1974 (see "Amazingrace," fall 2011). Today it serves as a venue for student-directed theatrical productions and dance performances.
Stories by Stephanie Haines (WCAS15), Margaux Pepper (C14) and Danny Moran (J13).
Tell us what you think. E-mail comments or questions to the editors at letters@northwestern.edu.
Ever wonder about those strange designations we use throughout Northwestern to identify alumni of the various schools of the University? See the complete list.