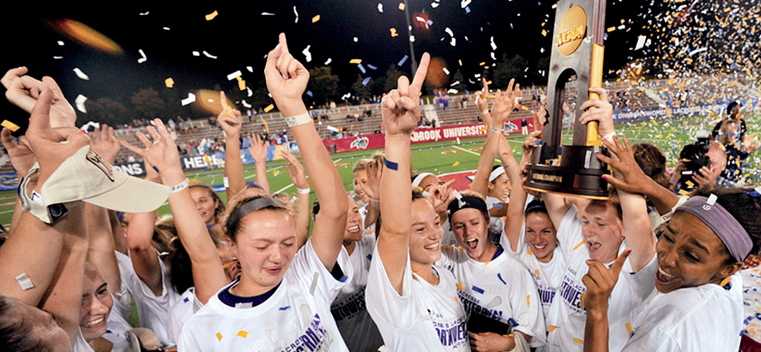 The jubilant Wildcats hoist the National Championship trophy in Stony Brook, N.Y. Photo by Stephen J. Carrera.
Seventh Heaven
Story Tools
Share this story
Tell us what you think. E-mail comments or questions to the editors at letters@northwestern.edu.
Ever wonder about those strange designations we use throughout Northwestern to identify alumni of the various schools of the University? See the complete list.
Find Us on Social Media
Women's lacrosse rallies to win seventh title in eight seasons.
When Northwestern lost in early May to the University of Florida in the American Lacrosse Conference championship game by a score of 14-7 — the program's largest margin of defeat in nine years — there was talk among outsiders that the Wildcats' women's lacrosse dynasty might finally be over.
"That was a definite moment when a lot of us kind of took a step back and looked at ourselves individually to see what we needed to do," said rising senior Taylor Thornton. "And I think from that self-evaluation, we put in a little more time, a little more effort. It was definitely a driving force for us to work harder going into the NCAA tournament."
That extra effort paid off as the Wildcats won the program's seventh championship in eight years, defeating Syracuse University 8-6 in the national title game in late May.
Northwestern looked vulnerable in their final two games but twice came back from deficits to win. They trailed 6-4 in the second half of the national semifinal against the University of Maryland but answered with four straight goals to earn an eventual 9-7 win.
Against Syracuse in the final, they trailed in the first half before roaring back with four consecutive goals once again to take a 6-4 lead. Syracuse made a late run to tie the game before the Wildcats pulled away for good with goals from Thornton and Erin Fitzgerald, a rising senior.
On the way to the title, the team reached several new milestones. Shannon Smith (WCAS12) became the school's all-time leading goal scorer and was named the NCAA championship MVP for the second straight season. Thornton won the Lacrosse Honda Sports Award as the women's lacrosse national player of the year.
Coach Kelly Amonte Hiller is just one title away from tying her coach at Maryland, Cindy Timchal, for most NCAA championships. Amonte Hiller is now 32-2 as a coach in the NCAA tournament, giving her the most tournament wins in history.
After winning the title, Amonte Hiller visited the White House in June for the 40th anniversary celebration of Title IX. In October she will be inducted into the U.S. Lacrosse Hall of Fame.
"She has been an incredible force," Thornton said of Amonte Hiller. "I know I wouldn't be the player I am today if I hadn't had Kelly as a coach. I've learned so much from her both on and off the field. We get to have such unique and truly memorable experiences being on this team, and I'm just forever grateful for her."