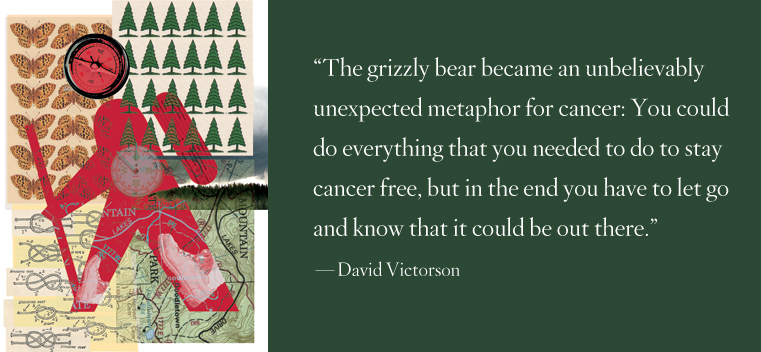 Illustration by Margaret Riegel
Finding True North
Story Tools
Share this story
Tell us what you think. E-mail comments or questions to the editors at letters@northwestern.edu.
Ever wonder about those strange designations we use throughout Northwestern to identify alumni of the various schools of the University? See the complete list.
Find Us on Social Media
True North Treks helps young adult cancer survivors get back on trail.
When True North Treks took its first group of young adult cancer survivors into grizzly country in northwest Montana and Idaho last year, the participants had to learn a lot about bear etiquette — don't sleep where you eat, for instance, bring a buddy and a can of bear spray for bathroom breaks and make a little noise on the trail to announce your presence.
"We were guests in someone else's habitat," True North Treks founder David Victorson, a Northwestern assistant professor of medical social sciences, says of the group's first backpacking excursion. "The grizzly bear was present with us on that trek.
"The grizzly bear became an unbelievably unexpected metaphor for cancer: You could do everything that you needed to do to stay cancer free, but in the end you kind of have to let go and know that it could be out there. Part of what we teach on the trek is learning to sit with that uncertainty."
Victorson, a health psychologist and lifelong outdoors enthusiast who grew up in Michigan's Upper Peninsula, founded Evanston-based True North Treks as a way to help young adult cancer survivors get back on track after treatment. The five-day backpacking excursions teach outdoor skills and mindfulness meditation, with a rare opportunity for deep social connection.
The young adult demographic is the only group that has not seen improvements in cancer mortality rates. "And they continue to report having trouble reintegrating themselves back into their lives after they finish their treatment," says Victorson. "Even during their treatment, it's very disruptive for this age group. It throws them for a loop when they have to drop out of school or experience something like infertility when they were planning on having a family — all these big things that happen in your 20s and 30s."
Victorson has worked for years to improve quality of life for people with cancer. His research at Northwestern has focused in part on mindfulness meditation, which is based on an ancient Buddhist practice. "It means paying attention to whatever is happening right now," says Victorson, who for five years taught a biweekly class on the practice to cancer patients at Evanston Hospital.
Studies have shown that for cancer patients and survivors mindfulness meditation can reduce stress and anxiety, increase quality of life and decrease uncertainty. In his own research, Victorson recently completed a randomized controlled trial that looked at the effect of mindfulness meditation for men with low-risk prostate cancer who were on active surveillance. Men in the study were less likely to experience fear of cancer progression if they and their wives were trained in mindfulness meditation. This has important implications for the prevention of invasive and often unnecessary surgeries that can stem from such fears.
Victorson had a calling — "a screaming," he says — to start an organization that combined his desire to help cancer patients, his love for the outdoors and his interest in mindfulness meditation. With help from Northwestern's Bluhm Legal Clinic, he launched True North Treks in 2008. (The clinic selects a few new nonprofits each year to assist with the nonprofit incorporation process.)
True North Treks has hosted two trips — to Montana and Idaho in September 2010 and to the Three Sisters region of Oregon earlier this summer. A third trek, to Montana, is planned for September. Each trek includes seven to nine survivors, two Wilderness Outdoor First Responder–certified guides and a meditation instructor or mental health practitioner.
Victorson hopes to gradually expand True North Treks to as many as 10 treks per year. The nonprofit pays for flights and other excursion expenses with the stipulation that each participant makes a "pay-it-forward" pledge to raise $1,500 for a future participant.
Victorson says the excursion is well worth the investment. What has most surprised him is the "power of social connection between people who have been through similar experiences who have five days together where they cannot be reached. Members of the group that went to Montana said, 'We've never been in such an intimate place with other survivors where we can connect and not have to go home, like at the end of an hourlong support group.'
"The social connection makes sense, especially for that time in your life when identifying with others and feeling like you're a part of something bigger than yourself is a really important developmental