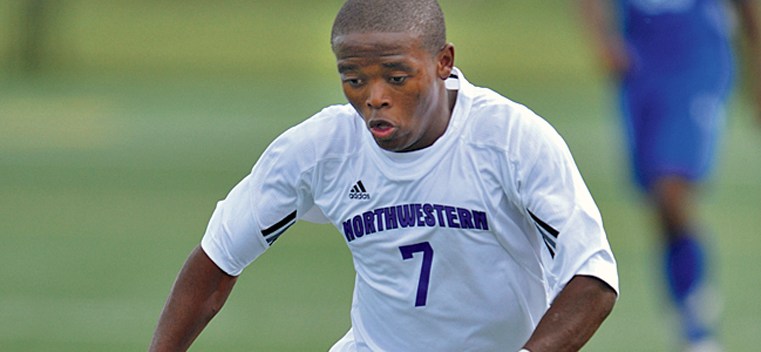 Photo by Stephen J. Carrera
Big at Heart
Story Tools
Share this story
Tell us what you think. E-mail comments or questions to the editors at letters@northwestern.edu.
Ever wonder about those strange designations we use throughout Northwestern to identify alumni of the various schools of the University? See the complete list.
Find Us on Social Media
Lesotho native Lepe Seetane looms large in men's soccer's bid for Big Ten title.
At 5-foot-2, Lepe Seetane is the shortest player on the Northwestern men's soccer team, and 3 inches shorter than any of his teammates. No matter for the midfielder, who is affirming that in soccer, size doesn't matter.
"Coming in, I had a lot to prove," says Seetane, a rising junior. "People always laugh when I say, 'It's not about the size, it's about the heart. What kind of competitive edge do you have?' "
That competitive edge has helped Seetane handle some pretty tall challenges. Not only is Seetane the first member of his family to attend college, he is doing so halfway around the world from his birth country. Seetane first moved from Maseru, Lesotho, to Louisville when he was 13, and he thought he would only be in the United States for three months. He has extended his stay by about eight years and became one of just a handful of Lesotho natives to play intercollegiate soccer in the United States.
Seetane, a solid contributor on Northwestern's Big Ten Championship squad in 2011 and one of three Wildcats listed on the Big Ten's Preseason Players to Watch list, credits much of his success to his carefree approach to the game. Growing up in Lesotho, Seetane always saw soccer as his departure from the drags of school and other responsibilities. The pitch was his escape.
That mindset has guided Seetane during his time in Evanston. "When I step onto the soccer field, I'm stress-free," he says.
Seetane, who has not seen his family in Lesotho since his junior year of high school, hopes to one day don the green, white and blue for the national squad.