Passings
Story Tools
Share this story
Tell us what you think. E-mail comments or questions to the editors at letters@northwestern.edu.
Ever wonder about those strange designations we use throughout Northwestern to identify alumni of the various schools of the University? See the complete list.
Harold Berc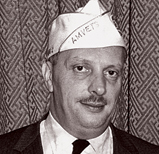 Harold T. Berc (WCAS36), 97, Chicago, Feb. 26. A Chicago newsman and attorney for more than 60 years, Mr. Berc joined the U.S. Navy shortly after the attack on Pearl Harbor. He participated in 10 major naval engagements and received a Bronze Star for his role as fighter director aboard the USS Reno. Later, as national commander of AMVETS, Mr. Berc established the concept and secured funding for the USS Arizona memorial at Pearl Harbor. In 1995 he helped bring the 8-ton anchor from the USS Chicago to Navy Pier. The memorial bears his name. Mr. Berc served on the board of the NU Club of Chicago and as president of the City Club of Chicago.
Virginia "Ginny" Blair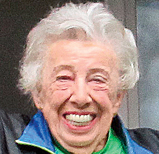 Virginia A. "Ginny" Blair (C48), 86, Evanston, March 30. A devoted Northwestern alumna, Mrs. Blair became the first woman president of the NU Club of Chicago and later served on the board of the Alumnae of Northwestern and chaired several class reunions. After starting her family, Mrs. Blair took up writing. In the 1960s she wrote lyrics for the Waa-Mu Show and then created 30-minute minidramas for local CBS and ABC television stations. In 1963 she earned a local Emmy nomination for her writing for the drama If I Should Die. In 1969 she took her talent and creativity to Smith Bucklin & Associates, where she ran the public relations department from 1980 to 1985. One of her longtime clients, the Cremation Association of North America, created the Ginny Award in her honor. She is survived by her daughter, Janet Blair Cabot, and son, Warden T. "Hill" Blair III. 
Terri Dial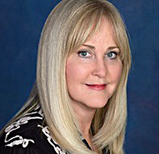 Terri Dial (WCAS71), 62, Miami, Feb. 28. Once nicknamed "the human cyclone" by the British press for her aggressive business approach, Ms. Dial was a prominent figure in the U.S. and international banking world. She started as a teller at Wells Fargo in San Francisco and during a 27-year career ascended to executive vice president and head of Wells Fargo's California banks and business banking. She moved to London to lead Lloyds TSB before being asked to help reshape Citigroup as head of the North American consumer banking unit in the wake of the financial crisis. She stepped down in 2010. Known for her honest encouragement of other female bankers, Ms. Dial also changed the culture for women in banking. She urged women to promote themselves and their skills. Early in her career, as a teller at a Wells Fargo branch in San Francisco, she successfully challenged the practice of having female staff members clean the kitchen, according to a Wall Street Journal profile. Ms. Dial loved to travel, visiting more than 100 countries with her husband, Brian Burry. She had a particular love for southern Africa. Ms. Dial is survived by her husband and a sister, Donna.
Richard Houk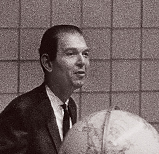 Richard J. Houk (G50), 90, South Bend, Ind., Feb. 17. Mr. Houk spent more than 60 years on the faculty at DePaul University, where he founded and chaired the department of geography in 1948. He traveled to more than 100 countries on foreign study trips. He had a special interest in Portugal and Spain after serving in the Azores, a group of islands off Portugal, with the Army Air Forces Weather Service during World War II. Portions of his Northwestern thesis on the Portuguese fishing industry were incorporated into the Encyclopedia Britannica. In 1964 he was recognized by the Spanish government for his years of effort to improve relations between the United States and Spain. Mr. Houk is survived by his brother, James.
Irving Millman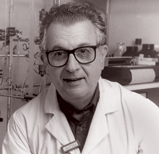 Irving Millman (FSM54), 88, Washington, D.C., April 17. A virologist and microbiologist, Dr. Millman helped develop the hepatitis B vaccine that has saved millions of lives. The vaccine is one of the first given to babies because the virus can spread easily during childbirth. The virus, carried by an estimated 350 million people, can cause liver inflammation and infections. 
At the Institute for Cancer Research (now the Fox Chase Cancer Center) in Philadelphia, Dr. Millman worked closely with Baruch S. Blumberg, who won the Nobel Prize for Medicine in 1976 for identifying the hepatitis B virus. Blumberg wrote that Dr. Millman's arrival in his laboratory in 1967 was the most important factor in his team's success in creating the vaccine.
Developed in 1969, the vaccine was largely ignored by the pharmaceutical companies, but eventually Merck & Co. agreed to produce it. It became commercially available in 1982. Because hepatitis B is associated with the development of liver cancer, the vaccine was also one of first against a major form of cancer.
Dr. Millman also helped create a blood test for hepatitis B that greatly reduced the risk of infection from blood transfusions. The test, put into practice in 1971, allowed screeners to detect the virus and discard blood donations from silent carriers. Infections from blood transfusions decreased by 25 percent as a result of the test. Dr. Millman was inducted into the National Inventors Hall of Fame in 1993.
The New York City native taught at the Feinberg School of Medicine after earning his doctorate in 1954. As an assistant professor, he conducted research on a tuberculosis vaccine.
Dr. Millman served in the Eighth Armored Division during World War II and received a Bronze Star for meritorious achievement in ground operations in the European theater. He is survived by a daughter, Diane; a son, Steven; and five grandchildren.
George Rathmann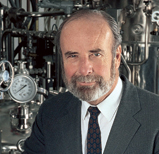 George Rathmann (WCAS48, H02), 84, Palo Alto, Calif., April 22. A founding father of the biotech industry, Mr. Rathmann made a name for himself as the first chief executive of Amgen and helped build it into the world's largest biotechnology company. At almost every stop in his career Mr. Rathmann earned a reputation for attracting talented scientists to technology-driven laboratories, funded by wealthy investors who were intrigued by his vision for combatting disease through genomics (see "Biotech Builder," fall 2000).
Mr. Rathmann spent 20 years at 3M, where he worked on Scotchgard and other products, and rose to vice president of research and development at Abbott Laboratories before venturing into genomics.
A collection of venture capitalists recruited Mr. Rathmann to join Applied Molecular Genetics, later Amgen, in 1980. Within eight years at the startup, which he built from a staff of four, Mr. Rathmann had directed the company to create two of the most successful drugs in history — Epogen, which stimulates red blood cell production in kidney disease patients suffering from anemia, and Neupogen, which promotes white blood cell production in chemotherapy patients.
He retired from the chairmanship at Amgen in 1990 and co-founded Icos Corp. with funding, in part, from Bill Gates. Mr. Rathmann earned the nickname "golden throat" for his ability to convince donors to invest. Icos, which was later acquired by Eli Lilly & Co., developed treatments for asthma, multiple sclerosis and rheumatoid arthritis and later launched the erectile dysfunction drug Cialis.
Mr. Rathmann received an Alumni Merit Award in 1992. Northwestern created a named professorship, endowed by the Rathmann Family Foundation and Amgen, in his honor. He is survived by his wife of 62 years, Joy; sons James and Richard; daughters Margaret, Laura and Sally; and 13 grandchildren, including Margaret Kadifa (J15).
Howard Rosenheim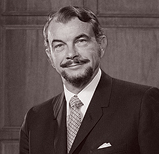 Howard Harris Rosenheim (EB36, KSM54), 96, Park Ridge, Ill., Feb. 15. After graduating from Northwestern and travelling the world for 18 months, Mr. Rosenheim joined Intermatic Inc., developer of the Intermatic Timer. In two decades at Intermatic, he ascended to the roles of president and chair of three international affiliates. He later engaged in numerous consultancies in the Middle East, including the establishment of the first four-year school of nursing in Saudi Arabia. Mr. Rosenheim served as the president of the Northwestern Alumni Association and on the Board of Trustees. An Austin Scholar at Northwestern, Mr. Rosenheim lectured in marketing at the School of Continuing Studies. Mr. Rosenheim, who received an Alumni Service Award in 1965, is survived by two children, Cathy and Bill, and three grandchildren.
Anne Thurman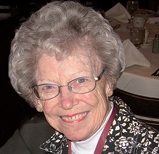 Anne Hardy Thurman (C40, GC66), 92, Evanston, April 22. Ms. Thurman influenced a generation of teachers with the creative drama classroom teaching method. Like her mentor, former Northwestern professor Winifred Ward (C1905), Ms. Thurman became an international authority on drama and theater education. She taught in several Evanston-area public schools before joining the dramatic production faculty at Northwestern in 1971. Ms. Thurman retired in 1985 and became a pioneer in the field of drama with senior citizens. She earned several lifetime achievement awards, most recently from the Children's Theatre Foundation of America. Ms. Thurman is survived by her son, Bruce, and two grandchildren, Justine and William.