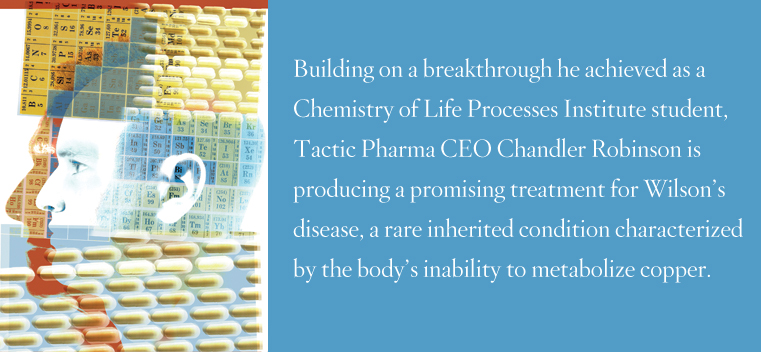 Good Chemistry
Story Tools
Share this story
Tell us what you think. E-mail comments or questions to the editors at letters@northwestern.edu.
Ever wonder about those strange designations we use throughout Northwestern to identify alumni of the various schools of the University? See the complete list.
As a student, Chandler Robinson's first meeting with Tom O'Halloran hardly seemed like the prelude to a professional partnership.
"Chandler came to see me one day when he was in my general chemistry class," recalls the Charles E. and Emma H. Morrison Professor of Chemistry. "He said he had missed the last quiz or two because he was sick, and he wanted to let me know that he was recovering and should be back pretty soon."
As he typically does with students who have missed significant time, O'Halloran suggested Robinson (WCAS06) drop the course. Instead, Robinson aced the midterm.
"I told him, 'You ought to get sick more often,' " says O'Halloran, who is also director of Northwestern's Chemistry of Life Processes Institute, which brings together nearly 40 faculty members from seven different departments for cross-disciplinary collaboration to encourage biomedical breakthroughs.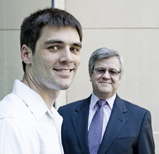 Ten years later, Robinson is CEO of Evanston-based Tactic Pharma — a startup with a distinctly Northwestern flavor. Research professor Andrew Mazar, CLP's entrepreneur in residence, is Tactic Pharma's chief scientific officer, and many of its financial backers are CLP board members. And who is the head of strategic partnerships? Tom O'Halloran.
Building on a breakthrough Robinson achieved as a CLP student and on which he published in Science, Tactic is now producing the drug Decuprate — a promising treatment for the thousands who suffer from the life-threatening genetic disorder Wilson's disease. Wilson's is a rare inherited condition characterized by the body's inability to metabolize copper, which leads to liver and brain damage and results in death at an early age if not treated. Since the drug is expensive to produce, and the disease is so rare (affecting about 1 in 30,000 individuals), it's the kind of undertaking that causes large pharmaceutical companies to balk.
Robinson, whom O'Halloran describes as "fearless," traveled to Sweden this summer to make Decuprate available via the named-patient mechanism in Europe, which grants Europeans preapproval access to drugs that fill an unmet medical need. He has spent the past year and a half immersed in everything from acquiring compounds to completing a manufacturing campaign, often learning on the fly.
Robinson, who earned a master's degree in health economics from the London School of Economics and Political Science and an MBA from Cambridge University, has completed nearly three years of medical school at Stanford University. What comes across most upon meeting Robinson is his passion — for his work and for impacting lives.
"These patients have a lot they're suffering through," he says. "So, yeah, maybe this new drug won't do a billion dollars in sales like a lot of big pharmas might want. It might be much smaller. But it will be impactful for those patients."
Robinson is also passionate about CLP. Based at the Richard and Barbara Silverman Hall for Molecular Therapeutics and Diagnostics, the institute fosters scientific discovery through interdisciplinary, collaborative research — an approach that aligns perfectly with the "Discover Creative Solutions" pillar of Northwestern's strategic plan.
"I think it's a fantastic place to direct giving," says Robinson. "CLP tries to bring together so many areas — the sciences, engineering, medicine — and pull them into one building. It helps spur innovation and new companies. It's amazing to be a part of it."
That dynamic environment is part of what keeps him involved as a member of CLP's executive advisory board. He also gives generously to support undergraduate research.
After all, Robinson's own path started at Northwestern in O'Halloran's lab. For that fact, O'Halloran is grateful.
"One of the most exciting things for me is watching students mature in terms of intellect and ability," says the professor, proudly. "But it's most impressive when they go on to become your teachers."