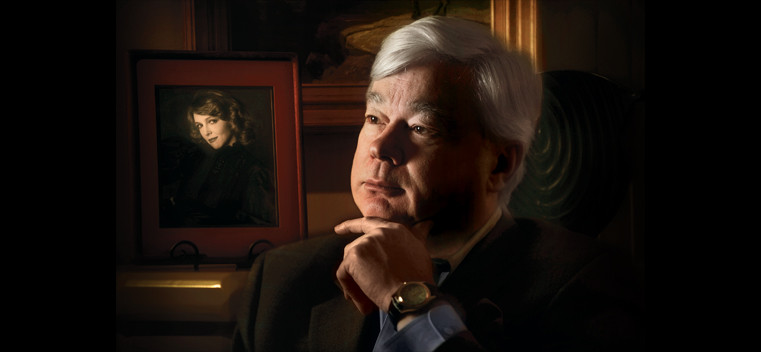 Courtesy of the Denver Post
The Long Goodbye
Story Tools
Share this story
Sean Hargadon is senior editor of Northwestern magazine.
Tell us what you think. E-mail comments or questions to the editors at letters@northwestern.edu
Find Us on Social Media
CBS correspondent Barry Petersen reports on his personal struggle to care for a loved one with Alzheimer's.
Barry Petersen clearly remembers the night in 2008 when he "stared down suicide" — the night when the pain of losing his wife to Alzheimer's disease was almost more than he could bear.
In 2008 Petersen had placed Jan, only in her late 50s, into an assisted living facility in Washington state and then later retreated to the couple's Sonoma Coast vacation home in Northern California. He remembers looking out over the water and thinking, "It's 50 feet to that bluff. If I walk 51 feet, the pain will end."
"I have to tell you, that was incredibly appealing," Petersen (J70, GJ72) recalls. "But then I got so angry at the idea that if I did that, the disease would have won. It would have gotten two."
Petersen vowed then that the disease would not take him down, too.
An Emmy Award–winning correspondent who reports for the CBS Evening News and CBS Sunday Morning, Petersen wrote Jan's Story (Behler, 2010) about their love, his loss and the journey to love again. "It's one of the most honest portrayals of caring for someone with Alzheimer's disease that I have ever read," says Darby Morhardt, director of education at Northwestern's Cognitive Neurology and Alzheimer's Disease Center.
When Petersen visited Chicago to present at the CNADC's Alzheimer Day, he shared a message that he learned the hard way — make sure to care for the caregiver. 
"The statistics are clear," Petersen says. "Caregivers very often die before the person with the disease because the strain is so extraordinary. The process of taking care of someone, you get sucked into it. You don't even realize that the world is shrinking around you. Part of writing this book was to say, if you're the caregiver, you've got to protect yourself."
Barry met Jan Chorlton, a television reporter and anchor, at a Seattle CBS affiliate in 1984. They married in 1985 and lived throughout Europe and Asia while Petersen was on assignment.
Petersen acknowledges that he missed, ignored or flat out denied earlier clues about Chorlton's mental health, but in 2005 her condition became clear. While they were splitting time between CBS bureaus in Beijing and Tokyo that summer, she "walked through the Looking Glass … for three days," Petersen writes in the book.
Chorlton heard voices in the grocery store telling her what to buy, and at dinner she prepared a plate for an imaginary guest. She began making sentences with the correct words, but all out of order. She dressed for bed in street clothes. She started to cook hamburgers in a stockpot over high heat with a frying pan for a lid before suddenly deciding to take a nap. On the fourth day she returned to normal but had no memory of what had happened.
Petersen phoned a neurologist in San Francisco, and the doctor made a long-distance diagnosis: early-onset Alzheimer's disease.
With resiliency and a regimen of medications, Chorlton vowed to beat the disease. But her condition deteriorated, and Petersen became her full-time caregiver while continuing to cover assignments throughout the region. "The days felt like they were 36 hours long, or more," he writes. By fall 2007 Petersen could not leave Chorlton alone, even for a few days. He hired a former nurse from Tacoma to join them in Asia. 
Finally, in 2008, Chorlton's anger and confusion became too overwhelming, taking a serious toll on Petersen's physical and mental health. The live-in nurse, Diane, finally sat Petersen down and told him, "You are going down. You cannot help Jan if you are not here."
Petersen made the heartbreaking decision to place Chorlton into the Alzheimer's facility in Washington, a few miles from her mother's home. "When I had to walk away from the facility, I learned that you can weep so hard that you cannot stand up," Petersen says. "I just literally fell to the ground, sobbing. That came from understanding, realizing, trying to accept that everything about us was over."
Petersen continues to grieve. Visits to Chorlton, now at an assisted living facility in Denver, seem "like saying goodbye by going to the same funeral over and over again," he says. He despairs at how little money is spent on Alzheimer's research, a paltry $500 million compared with the billions spent on cancer and heart disease. And he laments the incredible cost of high-quality care — in the neighborhood of $70,000 per year — because Medicare often does not cover assisted living. 
With encouragement from friends and Chorlton's family — her mother, Caron, in particular — Petersen has also made the difficult decision to move on with his life. A year after Chorlton went into assisted living, a friend pushed Petersen to enter a profile on Match.com. He received several responses, including an invitation from a widow in Denver to be pen pals, when Petersen was still living in Asia. After countless emails and hours on the phone, eventually they met and connected.
Petersen and Mary Nell Wolff now live together in Denver, not far from the assisted living facility where they visit Chorlton together. "We describe ourselves as a family of three," Petersen says. "We're the 'new American family,' because Alzheimer's is going to become so rampant.
"You don't know how people are going to react," he adds. "To meet Mary Nell and have this second chance at life was an amazingly extraordinary thing for me, but it doesn't always hit people that way. Let's face it, I'm still a married man and I'm living with another woman. … Not everyone thinks it's a happy ending."
Petersen regrets that he and Chorlton never had a conversation about what would happen if she did not beat the disease, but he believes she would have told him to go on living. "I think Jan would be comfortable that this has happened because she's gone away," he says. "I think she would say, this makes sense, I love you more than having you die of loneliness."