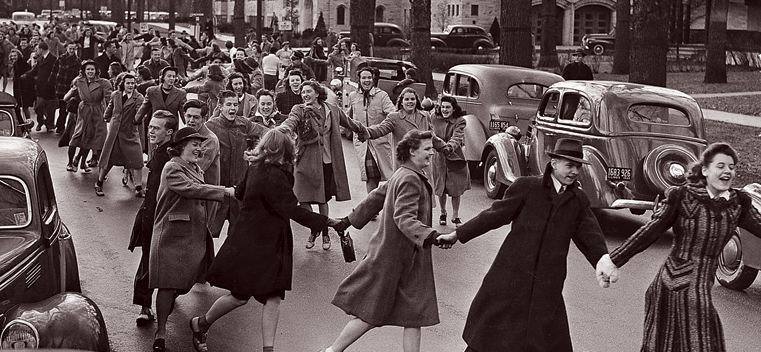 Northwestern students celebrate the Wildcats' 20-0 victory over Notre Dame with a snake dance up Sheridan Road in November 1940. Courtesy of University Archives.
Then: A Familiar Foe
Story Tools
Share this story
One bit of Notre Dame lore suggests that the Fighting Irish nickname was born during a game against Northwestern in the late 1890s when Wildcat fans supposedly began to chant, "Kill the Fighting Irish, kill the Fighting Irish," as the second half opened.
Whatever the truth of that legend, the Fighting Irish are the Wildcats' most popular nonconference opponent in program history — 47 meetings since 1889. The two schools will renew their rivalry in South Bend, Ind., in 2014 as part of a home-and-home series.
While the Irish have owned the better record throughout the series (37 wins), Northwestern has scored a few significant victories.
In 1935 an undefeated Fighting Irish squad was charging toward a national championship when it faced Northwestern in early November. The Wildcats eked out a 14-7 victory to spoil Notre Dame's chances at a title.
"The victory set off a spontaneous student celebration," Walter Paulison wrote in his 1951 book The Tale of the Wildcats. "The team received a riotous reception on its arrival at the 12th Street Station, students snake-danced through the Loop and held a fanfare in Fountain Square. Classes were canceled on Monday, and the celebration was climaxed by a dance that evening."
In 1940 the 10th-ranked Wildcats defeated No. 14 Notre Dame in Evanston 20-0, leading to a similar dance scene on campus.
The last time Northwestern faced Notre Dame, head coach Pat Fitzgerald (SESP97) played linebacker for the Wildcats. Northwestern won that meeting 17-15 in 1995.