New Direction for Northwestern
Story Tools
Share this story
A note from Northwestern magazine editor Stephanie Russell
It had been 11 years since we last redesigned Northwestern magazine, and we knew it was time for a complete makeover.
The magazine has evolved through the years, just like Northwestern University and our alumni readers. We know that Northwestern magazine has a lot of competition on your coffee table. So our new design helps you get right to the section you're most interested in, whether it's Class Notes, Campus Life or the feature stories.
We have more room for photography and illustration as well as more wonderful images from the University's history.
Of course we're going to continue to tell you the stories of our alumni, students and faculty. But we also want to bring you back to campus for a nostalgic visit with each issue. So we've been sending our photographers out to capture the excitement of Dance Marathon and Dillo Day, the calm of the Deering Library reading room, the cozy campus cafes and the new sustainable vegetable and flower garden (yes, you can eat dianthus flowers!) just outside the Norris University Center.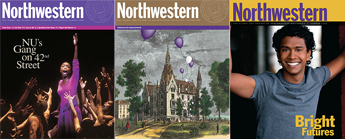 We hope you enjoy the magazine's new look. In the meantime we want to say a fond farewell to the old design of Northwestern magazine. Here are some of our favorite covers that we've run over the last 11 years: alumna Heather Headley (C97) in her Tony Award–winning role as Aida in the summer 2000 issue; the 1873 illustration of University Hall from Harper's Weekly that graced our Sesquicentennial issue in 2001; and outstanding senior Raja Burrows (C09, WCAS09), whose father proudly suggested that we include Raja in our annual salute to seniors, on the cover of our online-only summer 2009 issue.
Please drop us a line and let us know what you think of the new Northwestern magazine.