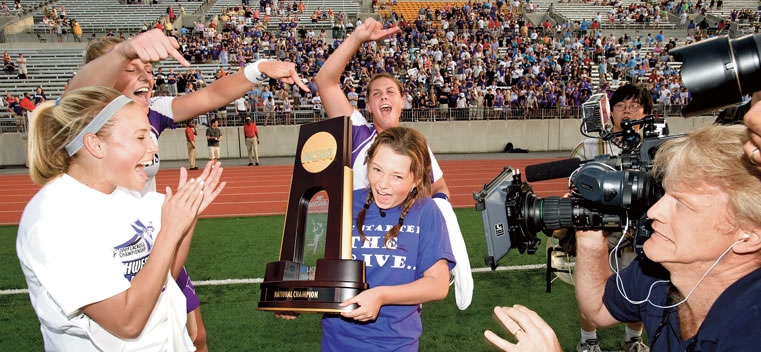 Little Sister Inspires Lacrosse Stars
Story Tools
Share this story
Six years ago Jaclyn Murphy was in a New York hospital with a malignant brain tumor when she received a package from Kelly Amonte Hiller. The Northwestern women's lacrosse coach had heard about Jaclyn through a friend, and Amonte Hiller wanted to help. Jaclyn, 10 at the time, was thrilled when she opened the box and found a signed Northwestern lacrosse media guide along with a ball and T-shirt. Little did Jaclyn know that her best present was yet to come.
While flipping through the media guide, Jaclyn saw that Northwestern would play at Johns Hopkins the following Friday, and she begged to go. Even though she felt sick, Jaclyn and her family made the trek to Baltimore from her home in Hopewell Junction,N.Y. She shared her story with the team before the game. "They were shocked," Jaclynsays. "They were stunned to realize such a young girl could go through so much."
Following the game, which Northwestern won 12-3, support came pouring in from the Wildcats in the form of text messages, CDs and cards. For Jaclyn, who would spend much of the next year in the hospital undergoing an arduous, yearlong procedure, the bond forged with Northwestern proved invaluable.
After that weekend in Baltimore, Jaclyn had two dozen new sisters.
"She lost all her friends. Nobody sits around and waits for somebody to get well," says Jaclyn's father, Denis. "Her friends are the Wildcats."
And the Wildcats discovered the beneficial relationship went both ways.
"She provides that role model to remind us that, when we think our practice is tough or we think we're going through something hard, she's alreadybeen through hell and back," former attacker Danielle Spencer (SESP10) said. "And look at her attitude."
As Jaclyn has grown, so have the Wildcats. The year Jaclyn was hospitalized, Northwestern went undefeated and won its first national championship. The Wildcats reeled off four more titles (in the photo above, Jaclyn hoists the team's fifth championship trophy in 2009). And, in the meantime, Jaclyn's health has steadily improved. Now 16, she plays lacrosse at Arlington High School in Lagrangeville, N.Y.
"The relationship means a ton. It means you get grounded," Amonte Hiller said of the team's friendship with Jaclyn. "You realize the moments you have are precious."
Through the Friends of Jaclyn Foundation, which Denis Murphy started in 2005, more than 200 college teams have "adopted" a pediatric brain tumor patient. Northwestern men's soccer teamed up with Russell Witek, a Chicago-area teen who died in 2009 after a long battle with cancer.
"Russell was an inspirational figure for our team," said former Wildcat defender Mark Blades (C10). "Our team thrived on his courage and determination."
The women's lacrosse team has drawn strength and support from their favorite fan, too. Every year the Wildcats have been in the national championship game, Jaclyn has run on the field and celebrated with the team. This year she was on the field again, this time to console. After Maryland crushed Northwestern's championship hopes, she was there to comfort the 'Cats. After all, that's what sisters are for.