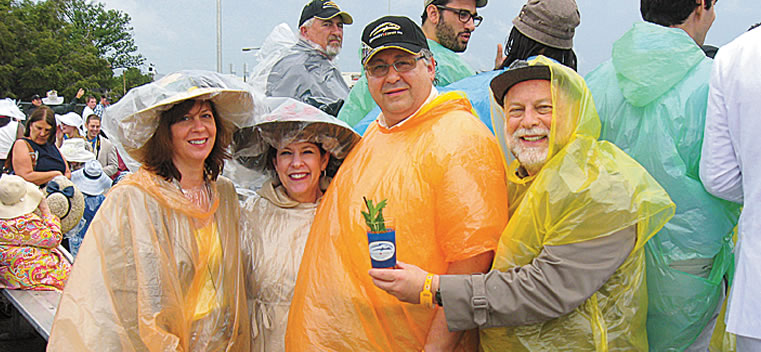 Derby Day with the NAA
Story Tools
Share this story
For information on upcoming NAA trips, call 1-800-NU-ALUMS or visit the NAA Travel webpage.
Find Us on Social Media
A couple of mint juleps, several elegant homemade hats and one rainstorm later, 16 Northwestern alumni checked the Kentucky Derby off their bucket lists.
Before the big race, travelers on the four-day Northwestern Alumni Association trip learned all the ins and outs of thoroughbred horse racing. They toured Keeneland Race Course and Shadwell Farm in Lexington, Ky., and talked with trainers about the experi­ence of working with horses. A highlight of the day came at WinStar Farm, where alumni got an up-close and personal look at Tiznow, a multimillion-dollar stallion and the only horse to ever win the Breeders' Cup in back-to-back years. They also visited Old Friends, a horse retirement center, before Friday's final stop — a tour of the Wild Turkey Distillery.
Before the derby on Saturday, some NAA travelers watched the rich and famous arrive along Millionaire's Row at the racetrack. They caught a glimpse of baseball giant Barry Bonds, singer Nick Lachey and Fran Drescher, forever known as television's "the nanny." Many alumni sipped their very first mint juleps and donned their homemade derby hats despite the race-day downpour. The experience would not have been complete without the singing of "My Old Kentucky Home," as the clouds parted in time for the Derby race.
Ironically, the trip came full circle at the conclusion of the two-minute race. Super Saver, the 2010 Kentucky Derby winner owned by WinStar, was sired by Tiznow. Jockey Calvin Borel rode Super Saver to victory.
All that thoroughbred industry knowledge after a day of tours came in handy, too. Several travelers left Churchill Downs with a bit of extra cash in their pockets.