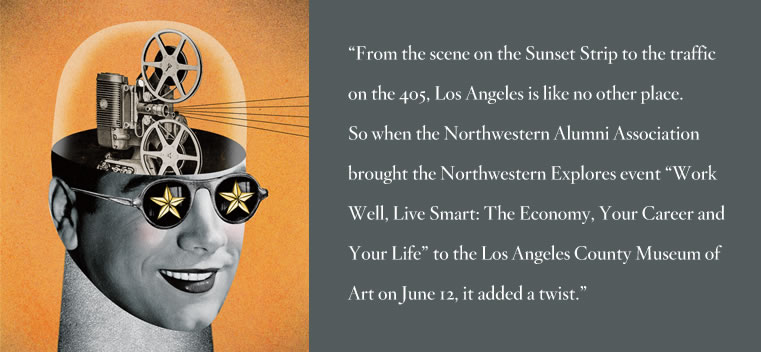 A Reel Deal on Careers in L.A.
Story Tools
Share this story
From the scene on the Sunset Strip to the traffic on the 405, Los Angeles is like no other place. So when the Northwestern Alumni Association brought the Northwestern Explores event "Work Well, Live Smart: The Economy, Your Career and Your Life" to the Los Angeles County Museum of Art on June 12, it added a twist.
"In Los Angeles we have a lot of technology and Internet-based companies — and then there's entertainment," said Candy Kaelin Deemer (J76, GJ77), a writer and execu­tive career coach. "We have a huge number of people with jobs related to entertainment, and there are a lot more people who would like to be in that business. It's hard to go more than a week without talking with someone who is writing a script for something."
In addition to speakers and a networking session, the event featured the panel discussion "L.A. Careers: Personal Stories." Moderated by Deemer, the panel provided insights from alumni who had found success in entertainment, the media, consulting and sports.
Among them was School of Communication alumna Mary Anne McGarry, who could certainly speak to the importance of versatility. She has worked as a writer, director, producer, educator and actor, recently playing a role on the hit series Mad Men.
"I've always done two or three things simultaneously," McGarry said. "I felt that a lot of my previous experience really put me in good stead. "But here's the flip side of the coin: The truth is that no matter when you come to L.A., it's tricky. You cannot dis­count beginner's luck or the relative ease of carving a break for yourself when you're young as opposed to when you're older."
This was the 11th installment of the NAA's special series, launched in 2009 to respond to the needs of graduates and students during the recession. More than 1,000 people have attended events, including 152 in Los Angeles.
Cecily Murray (SESP97) made the often-daunting three-hour drive from San Diego to attend the event. The human resources professional was laid off last August and expects she may relocate to Los Angeles.
Murray said she found the event helpful because she could network with a diverse array of attendees. "It was exactly what I was looking for," she said. "Usually when you think of L.A., you think of the entertainment business, but there are also a lot of large employers that are totally unrelated. I was pleasantly surprised when I saw the list of panelists from all those different fields who could all speak to the experience of being here in Southern California."