Margaret "Peggy" Fuller Boos, PhD
Margaret "Peggy" Fuller Boos, PhD
Geology Department, 1922-1927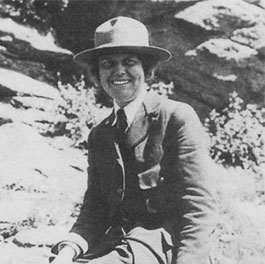 Margaret Fuller Boos (1892-1978) graduated from Northwestern with an undergraduate degree in geology in 1913. Afterward, she completed her master's degree and PhD at the University of Chicago in 1919 and 1924, respectively. It was during this time she first studied the geology of the Big Thompson River in Valley, CO. While completing this research she also worked at Northwestern from 1922 through 1927 as an associate professor of geology.
She moved to the University of Colorado with her husband, Maynard Boos and then transitioned to work the oil industry in 1943. She was called to Washington to work on the Strategic Minerals Program of the U.S. Bureau of Mines Pegmatite. During this time, she was the Minerals Specialist for 17 eastern states until the end of World War II. Dr. Boos won the Distinguished Alumnus Award from Northwestern in 1970 and was named the "First Lady of Petroleum" by American Petroleum Institute in 1971. To this day, Boos Fellowships, which are supported by endowment funds, provide tuition scholarships and living stipends to women graduate students at Northwestern.
Photo courtesy of Northwestern University Archives
Photo Gallery
View photos and archival assets from Northwestern University Archives.