Laura "Pat" Bautz, PhD
Astronomy Department, 1965-1974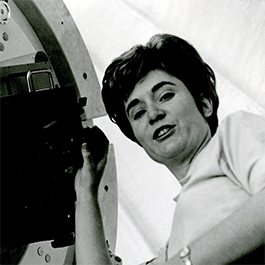 Laura Bautz earned a bachelor degree in physics in 1961 from Vanderbilt University and a PhD in physics in 1966 from the University of Wisconsin. However, even prior to the completion of her doctoral degree she began working as an instructor in the astronomy department at Northwestern in September 1965. Later, she became an associate professor of astronomy in 1967.
During her tenure, she worked with the university to develop new funding from the Nation Science Foundation (NSF), the National Aeronautics and Space Administration (NASA), and the Department of Defense for research in physics and engineering, eventually moving to NSF where she became the Director of the Division of Astronomical Science.
Photo courtesy of Northwestern University Archives
Photo Gallery
View photos and archival assets from Northwestern University Archives.