Augusta Webster, MD
School of Medicine, Obstetrics and Gynecology Department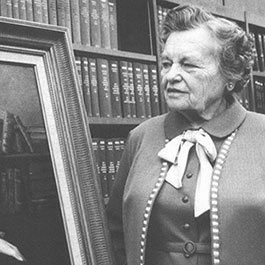 Augusta Webster completed her undergraduate work at Northwestern in 1926 and then obtained her MD from Northwestern in 1932. She worked as a resident at Passavant Memorial Hospital and served as a gynecology resident there from 1932-1933. During her residency she also worked at the Chicago Maternity Center and the Cook County Hospital. Dr. Webster continued her career at Northwestern as a clinical assistant in the department of obstetrics and gynecology in 1937. She then worked as an instructor in 1941 and as a department associate in 1943 and assistant professor in 1951. In 1953 she served as the chairwoman of the department of obstetrics at the Cook County Hospital. Dr. Webster is cited as the first woman to become a full professor in Northwestern's Medical School and in 1960 she became the first woman in the country to head a department of a major teaching hospital. She has been recognized with Northwestern's Alumni Merit Award, the Chicago Medical Society's Community Service Award and as designated "Woman of the Year" by the American Medical Women's Association in 1954. Today, Northwestern's Feinberg School of Medicine remembers Dr. Webster with the Augusta Webster Fellowship in Educational Research and Innovation.
Photo from Northwestern's Feinberg School of Medicine
Photo Gallery
View photos and archival assets from Northwestern University Archives.