Anna Ross Lapham, MD
School of Medicine, Obstetrics and Gynecology Department, 1919-1953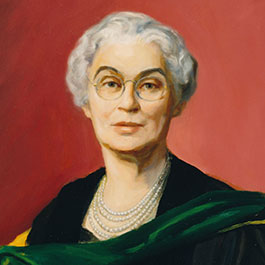 Dr. Anna Ross Lapham was the first female professor on faculty at Northwestern's medical school. After she obtained her MD degree from Northwestern in 1898, Dr. Lapham joined the faculty in 1919 as a professor of obstetrics. During her time at the university she also served as the Dean of Women at the medical school. Upon her death in 1953, Dr. Lapham named the university in her will and left a sizeable gift of $100,000 to the Department of Obstetrics and Gynecology to fund research and scholarships. At the Northwestern University Medical School the Anna Lapham Professorship in Obstetrics and Gynecology was named in her honor.
Photo courtesy of Northwestern University Archives
Photo Gallery
View photos and archival assets from Northwestern University Archives.