Contact Vending
Machine Repairs & Inventory Supply
If a machine appears to be broken or there is a problem with the inventory, call the number on that machine and provide the machine number: 
Canteen (snacks): 800-676-6652
Coca-Cola: 844-861-2653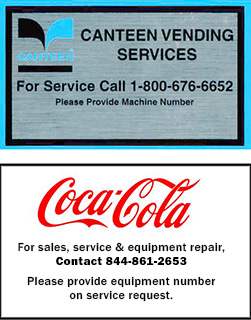 Refunds
If you lose money in a University vending machine, you can receive reimbursement from a refund bank location.
Comment Cards
Printed comment cards are attached to all machines and picked up by Vending Services.
The online comment card gives you the ability to provide suggestions or comments regarding vending locations, products offered, machine repairs, refunds, or other concerns about environment or nutrition.
Contact Vending Services
If you have something (other than machine or inventory problems) that you would like to discuss directly with Vending Services, contact Ellen Barnes at e-barnes@northwestern.edu
Food Items and Prices
The Vending program is aware of changing food service trends and dietary patterns. As a result, vending menus are adjusted periodically to be in line with current food consumption patterns.
It is our objective to keep prices and portions realistic and comparable with prices and portions of similar vending operations in the community. The vending program is periodically sent out for bid to ensure that it remains competitive.