FEATURES:
• The News about Neutrinos
• A Culture Quest —
on Film
• Putting Himself
on the Line
• Never a Stranger



Never a Stranger
A student in the School of Continuing Studies finds "family" in the African nation of Mali.
---
by Susan McClelland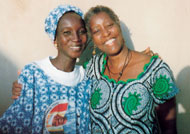 A rooster crows loudly two or three times as the last Arabic strains of the morning call to prayer drift through the air. I become aware of the steady, rhythmic thump of my host sister pounding millet grain in a large wooden mortar and pestle. It's the beginning of another day in Bamako, Mali.

My host mother is already starting a fire under a pot of water in the outside courtyard kitchen, and I greet her in Bambara on my way to wash: "I ne sogoma, here sera?" (Good morning, did you sleep well?)

Visiting Mali — a largely arid but beautiful West African country of 11 million people — under the auspices of the School of Continuing Studies 2002 Summer Abroad program is a dream come true for me. Bamako, the capital city of more than 800,000, offers an intoxicating mix of traditional Africa with traces of colonial French influence, while the smaller cities offer a glimpse into West Africa's essence.

As my morning meal of sliced mango, bread and butter, and tea concludes, my younger "brothers and sisters" set about their chores. Joli is the oldest and at 16 seems to always be cooking, sweeping, washing dishes or clothes. But in the afternoons and evenings she and I often draw pictures together in the courtyard and chat in French under the beautiful night sky about life in Ameriki.

The others — Moussa, Danny, Mimi, Anya and Papice — are polite and friendly children. I quickly become attached to them all.

My host family household seems typical of other close-knit, extended Muslim families. The intricate family structure is the foundation on which everything rests in Africa, and familial connections are everywhere. Cousins are referred to as sisters and brothers, and close friends are called aunt and uncle. I quickly integrate into the life of my family and community, and I am given the Malian name of Fatima.

On the Sotramas, privately overhauled minivans that are indicative of Bamako's entrepreneurial spirit, I quickly learn to say "n be jigi ya" (I get off here) to the conductor. And when I get lost, Malians are always willing to help me find my way.

For 10 years Mali, independent from France since 1960, has been a democratic republic. Both my host parents are active in the local political events of Bamako. I myself am thrilled to gain an understanding of Africa's role in international affairs from my course work and observations. Enthusiastic outdoor political rallies for the July local elections are held in open lots all over the city. On one occasion I hear the current president speak at a village school gathering.

Politics aside, I enjoy visiting Bamako's colorful and vibrant farmers market. My host mother shows me the best stalls to purchase calabash gourds, fabric and sugar. Whether it's bread, fruit or vegetables, batteries, candles or paper goods, you can find it there.

In addition to the farmers market, there is a fascinating artisans market for leather goods, masks, jewelry, musical instruments, and carved and woven items. Music is everywhere. The music of popular singers and koro players is heard on the streets, on the radio, in concert or at weddings and celebrations.

Although I love Bamako's "capital city" bustle, the true highlight of my trip is an upcountry journey to several historic towns.

I tour the former capital city of Segou, see a mud-constructed mosque at Djenne dating to the ninth century, take a boat ride down the Niger in Mopti and visit Bozo and Tuareg tribal villages. Hiking up to the cliff dwellings above the Bandiadara plateau, witnessing a dramatic Dogon mask dance and spending several nights in a rural village give me a sense of the deep spirituality of the Malian people.

Before coming to Mali, I worried about what Africans would make of me and how I would adjust to life in a Muslim country. Now, because of the wonderful people who opened their homes, hearts and culture, I can honestly say I never was a stranger in Mali. And whenever I return, it will be as family.

Susan McClelland is a senior in the School of Continuing Studies, majoring in art history. She works for the Department of University Relations, performs music part time and is a committed world traveler.