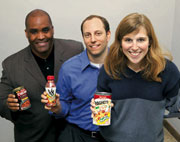 Photograph courtesy of the Campbell Soup Company
Campbell's Other Wildcats
---
While Douglas R. Conant is the most visible Northwestern graduate at Campbell, he is not alone. Five other Northwestern grads currently work at the company's world headquarters in Camden, N.J.
Jacques Finnell (KSM92), senior marketing manager, joined Campbell from Albertsons stores in 2001. As brand manager of Campbell's Chunky Soups, Finnell helped grow the brand's sales by more than 30 percent over two years. Today, Finnell is changing the way consumers shop for soup by leading the Campbell's sales company effort to install gravity-feed shelving in retail locations across the country.
Jeff Jacobs (WCAS92, KSM97), director of beverage new business development, has led the development of V8 Splash Smoothies, recognized as one of the best new products of 2003 by Progressive Grocer Magazine.
William "Bill" Kornegay (McC85) joined Campbell in 1998 as plant manager of the company's Sacramento, Calif., soup plant. Three years later Kornegay moved to England to manage the company's King's Lynn operation. In 2004 Kornegay was transferred to Campbell's world headquarters, where he is now director of operations for the Campbell Soup Supply Company.
Amy Percy (WCAS98), associate brand manager, is the youngest member of the Northwestern team at Campbell, which is appropriate because her duties make her responsible for marketing Campbell's Red & White Kids Brands to today's Campbell's Kids. Since joining Campbell in 2003 from Deloitte Consulting, Percy has helped to reposition SpaghettiO's into the Campbell 's brand portfolio. Over the past year she has managed the development of the brand's online strategy and its web site, mySoup.com.
Lisa Burke Wallach (McC90) joined Campbell in 1993 as a member of the process research and development group with a focus on investigating new technologies and developing manufacturing systems for new products. In 2000 Wallach joined Campbell's worldwide quality organization as business quality leader for ready-to-serve soups. Since 2003 Wallach has been group manager for beverage product development, where her team is developing new and unique vegetable-based beverages.
---