The Mind and the Muse
Recent graduate and Rhodes Scholar Cristina Bejan (WCAS04), an Oxford-bound philosopher and aspiring playwright, finds inspiration in her Eastern European heritage.
---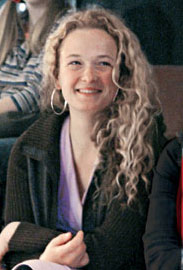 Photo by Thomas Lee
From the very beginning, it seems that Cristina Bejan (WCAS04) has been destined to do great things. During her first year at Northwestern, philosophy professor Terry Pinkard remembers Bejan distinguishing herself in one of his upper-division philosophy classes.
"When I found out that she was a first-year student, and an acting major to boot, I tried to discourage her from taking the class," says Pinkard, who intended the class for seniors and first-year graduate students."She insisted on staying though, and my first great surprise was with the first of the three papers assigned; she did the best undergraduate paper in the class."
Four years later, Bejan has distinguished herself yet again, this time as Northwestern's first undergraduate Rhodes Scholar in 16 years.
Bejan, of Durham, N.C., will use the award to fund two years of graduate study at Oxford University, where she will pursue a second bachelor's/master's degree (the equivalent of a master's in the United States) in philosophy, politics and economics. She plans to write her master's thesis on Immanuel Kant's aesthetic theory.
Bejan said she"reached paradise" in Pinkard's class. After one lecture, she walked directly to the philosophy department and declared a major in philosophy."It was totally irrational and the best thing I ever did."
Originally a theater major, Bejan found herself wanting more. She sought an academic experience while studying an artistic craft. She realized Northwestern was the perfect school for both.
"With theater you can create moving artistic experiences to which every human being can relate. In philosophy you can actually discuss and debate the reasons why this is so," explains Bejan."It wasn't enough to create these abstract experiences without knowing precisely what the inquiry was about in the first place."
During her junior year while studying abroad at St. Anne's College at Oxford (with a Northwestern-affiliated Arcadia University program), Bejan married her love of philosophy with her passion for theater as the writer, director and producer of To Those Who Haven't Stopped Thinking, a play she presented to packed houses.
Beyond her interests in theater and philosophy, Bejan also has deeply personal ties to Eastern Europe - especially to Romania, the country her father grew up in and left in 1969.
"I felt like I didn't know a part of me," says Bejan. As a high school graduation present, her parents enrolled Bejan in a three-week Romanian language immersion program. That trip sparked her fascination.
Bejan returned to Romania during the summer between her sophomore and junior years at Northwestern and lived by herself in a flat in the center of Bucharest, a city she describes as a"dynamic meeting point of the East and the West." She interned at Freedom House, a nonprofit organization that promotes democracy around the world.
"The country has a lot of problems, and I got to be in the thick of it," says Bejan. Witnessing the country's efforts at reform"ended up being a wonderful experience."
She delved deeper into the topic for her Northwestern honors thesis,"The Autonomy of the Individual in a Newly Free Society: The Problem of Freedom in Romania," which she wrote under the supervision of Professor Souleymane Bachir Diagne.
"I was astounded that many Romanians preferred life before 1989 [and the overthrow of the communist government]," says Bejan."I got the feeling that something was dreadfully wrong."
In the midst of her thesis, Bejan produced and directed Buchenwald, a play she wrote about a former Nazi colonel who finds himself imprisoned by the Soviets after World War II in his own concentration camp.
"The perspective that Cristina is able to offer regarding the workings of the mind of this Nazi faced with his particular circumstances is extraordinary, courageous and thought-provoking," says Ingrid Zeller, a professor in the German department and the play's adviser.
Bejan, who is expanding her thesis into a book, spent the summer teaching English in Romania and begins her studies at Oxford this fall. After Oxford, Bejan may move to Berlin or London to become a playwright/philosopher or return to the United States to pursue a doctorate and dedicate her life to academia.
"Whatever it is, she will be great at it," says Pinkard."Cristina has more energy than 10 other people combined. She also has the kind of quiet determination to make all the pieces add up."
-Laura Hadden (J07)
---