July 2022 Note from Our Director
July 2022 Note from Our Director
Dear Community,   
The Women's Center wishes to express our unapologetic and unequivocating commitment to bodily autonomy and abortion access for all those in need of this care. We know that people are looking to their institutions for recognition that this loss is historic, oppressive, and life threatening and we are proud to stand as one such space. 
But my sense is that there is a hunger also for perspective which I will do my best to provide. 
Let's begin with a very empowering book . Sonya Renee Taylor has coined the phrase body terrorism to capture what is common to violence, fatphobia, ableism, and bodily shame. She reminds us that "bodies are not the only designators of oppression, but all oppression is enacted on the body." For me, this piece of news (which I include as a link to be accessed with care and caution) epitomizes what it is to terrorize a body. There is a lesser terror too to the seemingly daily reminders that abuse of those most vulnerable serves as the moral position of the government that represents us.   
Sometimes, as in this case, we name forced reproduction as body terrorism in the same breath that we name rape, mutilation, being abandoned to unchecked violence or targeted by state violence, and even the mundane practice of learned self-shame because they are literally co-constituted. But even when the experiences stand apart, the comparative framework of body terrorism serves to hone our understanding of the relationship between power and harm. For many of us, because of our race, our gender, our sex, our culture, our trauma, the journey toward truly believing our bodies are our own is life long. Every threat sets us back. We need our friends to respond vociferously and consistently to those threats which touch us but not them. 
When we say it is my body and my choice, that choice is every choice—from positive consent for intimacy and sex, to the demand for safety, to gender expression, to reproduction.
As a distinctly and uniquely gendered space on campus, the Women's Center is naturally implicated in the conversation around gendered language in the fight for abortion rights and access. Threats to bodily autonomy of every kind disproportionately affect trans individuals and cis women nationally and on this campus. The use of women-only language in the fight for abortion rights erases some of our most vulnerable community members, forestalls necessary coalition building, and bears little advantage as a political strategy. 
The gradual loss of abortion access serves as but one example. In failing to focus on the Hyde amendment, some pro choice movements over the past fifty years let go the cause of medicaid coverage for abortion (and in effect those in poverty or uninsured) in a zero sum decision that assumed access could be sacrificed in the name of judicial certainty (see the reporting of Amy Littlefield among others). We are very good, presently and historically, at leaving one another behind when we feel our rights and our bodies under threat. The fear is understandable but it doesn't serve us. Coalitions that self-emulate at the first sign of turbulence crumble, dissipate, or set themselves up for deep and long term loss in the interest of momentary gain. People get pregnant. People need abortions. It does not diminish the cause to say so.

To this end, it is my sincere wish that you will notice not just inclusive language but an absence of panic and the continued presence of intersectional advocacy and education at our center in the months to come. Collective liberation remains the goal even or especially when forces beyond our control mean to interrupt us. 
< CONTINUATION FROM THE NEWSLETTER BEGINS HERE >
It sustains me to think expansively about bodily autonomy, choice, and coalition because I truly believe it all matters and it will all add up.  If the abortion access organization you wish to volunteer for cannot accommodate you at this time (They cannot. They are, gratefully and unanimously, overwhelmed by would-be helping hands), there is so much to be done both up and downstream of abortion that clears a path for that work. I am happy to share what our Women's Center is planning to contribute toward education and action in the months to come, and to share what I know of what is available to you beyond our walls about how to get involved and how to receive care. 
Our website has ever been a resource for local and national reproductive justice services and advocacy groups. This list is available also in print at both of our centers. 
Furthermore, for anyone looking to get involved in pro-abortion activism, I highly recommend attending Operation Save Abortion online on Sunday July 17th at 10am central. We will gather at the Evanston Women's Center to watch and discuss this national, full-day training sponsored by Abortion Access Front. It is also free to attend from your own home. 
In coordination with several campus partners, we are looking both to this moment and the long term by providing history, nuance, and opportunities to act toward a future of genuine, inclusive reproductive justice. This work is and has been underway already and is, as it should be, profoundly collaborative across Northwestern's campuses. 
In the coming academic year, our center will be hosting a series of conversations around reproductive justice that draw from the wealth of expertise already available here at Northwestern. As a brief preview, we will host conversations like one to be led by Professor Megan Hyska of Philosophy on the moral permissibility of abortion. And a separate session which seeks to expand conversations of choice to threats to democracy upon which our reproductive justice dreams surely depend. Please reach out if you wish to lead a session or wish to recommend another to do so. Details on how to register to attend will be available at the start of fall quarter. 
There will be larger-scale speaking engagements, workshops, and demonstrations, some of which we are already looking to cosponsor and assist with, in particular with CARE, Gender and Sexuality Studies, and as a representative unit of OIDI. 
We are not alone. NU faculty have recently provided important context  and on July 12, NorthwesternPritzker School of Law, Northwestern Feinberg School of Medicine and the Medill School of Journalism, Media, Integrated Marketing Communications will host a panel discussion on the potential impacts of the court's decision.
I know folks are looking also for for practical, concise information about access for our own students, staff, and faculty. As it relates to coverage, I received the following responses (and permission to share out) from our HR Benefits and Student Insurance Offices, respectively:
                       Northwestern remains committed to supporting our faculty, staff and their families in making
                       personal and confidential health care decisions. At this time we do not expect the recent Supreme
                       Court decision to impact the Northwestern health plan coverage for participants who reside in the
                       State of Illinois. For participants who reside outside of Illinois, we are monitoring state-specific
                       legislation that impacts health care access. There will be communication to participants as needed.
                      Employees may use incidental sick time, personal floating holidays, personal leave and vacation time
                       when accessing health care and for post-care recovery.
                    At this time, we do not expect the recent Supreme Court ruling to impact students who reside in the state
                    of Illinois and are enrolled in the Northwestern University Student Health Insurance Plan (NU-SHIP). 
                    If students who are actively enrolled in the NU-SHIP and reside outside of Illinois are impacted by the
                    ruling, it would be a direct result of specific state legislation and not due to any exclusions or plan
                    limitations of the NU-SHIP. 

                     The NU-SHIP policy states that once the annual deductible amount has been met, Aetna will pay 80% of
                     in-network, medical necessary services (including abortion services), and the student is responsible for
                     the remaining 20% co-insurance amount. The NU-SHIP provides out-of-network coverage at 60% of the
                     recognized charge after the out-of-network deductible has been met. 

                      For a detailed overview of what the NU-SHIP covers, please review the                                                    
2021-22 Plan Design & Benefits Summary. If there are remaining questions, please do not hesitate to reach                        out to me, and I will be more than willing to answer them.
It is my hope that all members of our community feel empowered to take full advantage of all available resources and to name aloud the gaps as they encounter them.
In times like this it is easy to feel like all we are doing is reacting. I very genuinely do not believe it. It is so astonishingly hard and there is so much in our way but we are building the future and we are bringing everyone. 
In solidarity,
Sarah Brown
Director
Northwestern University Women's Center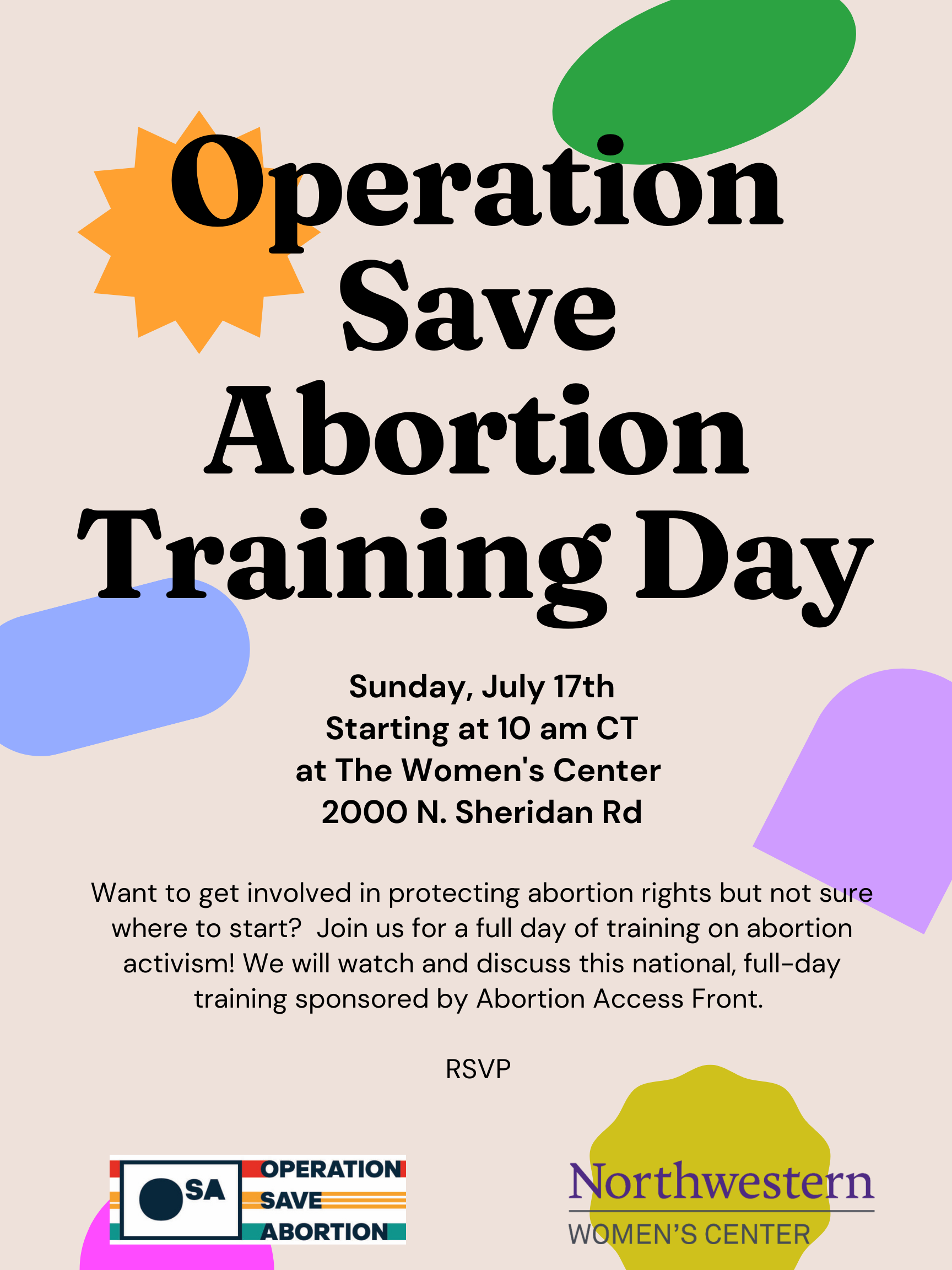 Stop by our Evanston Center Monday through Thursday to loan books on reproductive justice, receive printed resources or grab show-your-support SWAG while it lasts.