Food
Sustainability is core to Northwestern Dining's mission and to its customers. From the farm to the table, Dining has identified opportunities to serve healthy and sustainable meals that support small and mid-sized farms in the Midwest and contribute to Northwestern's goals of energy and water conservation and waste reduction.
Learn more about Northwestern Dining's sustainability initiatives.
Sustainable food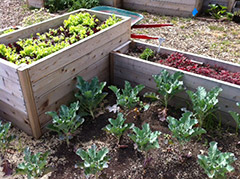 Northwestern Dining is committed to serving sustainable and locally grown foods. In partnership with suppliers and local farms, sustainable purchases are increasing. Meatless options are widely available, and Northwestern has been recognized by Peta2 as a "Most Vegetarian Friendly College." 
The Northwestern Dining Farm, in Osseo, Wisconsin, is a source of local and organic produce for campus dining services. Wild Roots, NU's on-campus garden, also provides items for campus dining.
Fair trade organic coffee is used in all resident dining and retail locations on campus.
Milk served in resident dining locations is rBGH & BGH free and purchased locally from Muller-Pinehurst Dairy in Rockford, Illinois.
Vegetarian and vegan selections are available at every meal and Meatless Mondays feature a wider variety of options.
All shelled eggs used are humane certified cage-free.
Recycling and waste reduction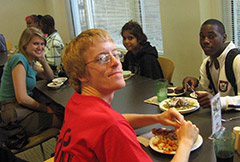 Waste reduction and diversion are an important part of Dining's sustainability efforts. Participation in campus recycling efforts, waste reduction and reuse are incorporated into daily operations. These efforts make Northwestern Dining and its customers more sustainable.
Food waste is collected for composting in all six resident dining locations and the Norris University Center. Learn more about this initiative.
Edible leftovers are donated to local to residents in need via Campus Kitchens.
Chicago Biofuels collects and filters used cooking oil from Northwestern Dining. Then Loyola University's biodiesel program converts it into fuel. The glycerin byproducts of the process are turned into soap. The entire operation supports research focused on generating renewable energy from waste materials. 
Filtered water stations are available in all resident dining locations and across campus buildings providing students with easy refill options for reusable water bottles.
All retail outlets offer a discount for patrons who use a reusable bottle or mug. Many items used, including napkins, coffee cups, and coffee sleeves, are made from post-consumer recycled content.
Styrofoam plates and coffee cups have been eliminated from retail dining outlets.
Energy and water conservation
The energy and water used in food preparation is significant and has a direct impact on greenhouse gas emissions. Conscious efforts are made to select efficient equipment and implement conservation based practices.
By going trayless at in all resident dining halls, one quarter gallon of water is saved for each tray that would have been washed. There are great savings in the energy to heat that water as well.
A highly-efficient Ecolab Apex washing system is utilized, reducing chemical and water usage by more than 10 percent per load.
In partnership with Facilities Management and Nicor Gas, all kitchens are audited to identify energy conservation opportunities.
In 2019, three kitchen spaces were renovated, resulting in new ENERGY STAR® certified equipment upgrades.