Operations
We consider sustainable practices in the everyday operations of our campus buildings. Read about some of our policies and procedures below.
Green cleaning methods
Practicing green cleaning methods offers a significant benefit to cleaning staff and building occupants. Our cleaning vendor, Aramark, employs a blue cleaning program that addresses cleaning chemicals, janitorial products and equipment, entryway systems maintenance, waste, and education.
The housekeeping staff use non-toxic and bio-based cleaning products that are LEED and Green Seal approved. They use micro-fiber cloths, resulting in reduced paper waste, and launder mops and rags, sending less non-biodegradable waste to the landfill.
Carpet recycling and cleaning
Aramark uses low moisture and cold water carpet cleaning agents and protocols. Carpeting that is removed is recycled and new carpeting is required to have a minimum of 10 percent recycled content.
Indoor environmental quality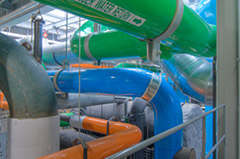 We evaluate daily operations and maintenance activities in classrooms, labs, offices, and residential buildings to protect the health of buildings, building occupants, and the environment. For example, all maintenance is done at low volatile organic compound (VOCs) levels.
All heating, ventilation, and air conditioning systems are routinely maintained to provide environmentally controlled conditions for occupant comfort and health. Outside air intakes provide fresh air and are located away from harmful emission sources, including building exhausts.
Temperature and relative humidity levels are monitored and set to inhibit the formation and presence of mold and mildew. In the event that mold or mildew is detected in a building, the HVAC shop and Office of Research Safety will investigate and eliminate the causative factor(s).
Residential Services upgrades
NU's Facilities Management and Office of Residential Services are taking a lead on sustainability in residential halls and colleges with a focus on conserving energy and water and reducing waste. To save energy, Residential Services has added light timers and sensors to many corridors and common spaces including laundry rooms, restrooms, and lounges. We have upgraded lighting to more efficient T-8 and T-5 fluorescents fixtures.
To save water, many existing plumbing fixtures in showers, sinks, and toilets have been upgraded to low-flow. To help reduce the use of single-use bottled water, all renovation projects feature water fountains that include a bottle filler function.
Back to top