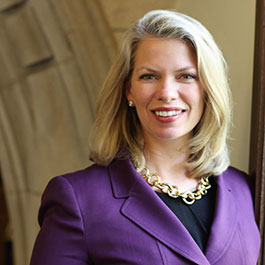 Julie Payne-Kirchmeier, Ph.D.
Dr. Julie Payne-Kirchmeier is a senior student affairs professional with over 20 years of progressively responsible and expansive leadership across institutional types and functional areas. Julie has been asked to spearhead institution-wide new initiatives based on professional expertise in strategic planning and assessment, cross-functional collaboration, student development, and innovative problem-solving. She has a demonstrated history of creating and supervising high-performing teams that deliver results for the institution while also serving and advocating for students.
Julie serves as the Vice President for Student Affairs where she oversees the full strategic resource management for the Division of Student Affairs, including facilities, housing, dining, finance, technology, marketing, communications, assessment, long-range planning, emergency planning, and the Norris University Center. Julie earned her B.S. degree in Genetics and her M.Ed. degree in Student Affairs Administration from Texas A&M University-College Station, and her Ph.D. at Indiana State University. A recipient of state, regional, national and international awards for her service to her profession, most recently she was awarded the Parthenon Award from ACUHO-I, one of the association's highest honors. She served as the NASPA Region IV-E Director and on the NASPA Board of Directors from 2017-2019.

Prior to joining Northwestern University, Julie served in various student affairs leadership roles, including as the Director of Housing for the University of Southern Indiana, the Assistant Provost for the University College at Southern Illinois University Carbondale (SIUC) and concurrently, as SIU's Director of University Housing. Julie is currently a faculty member in the masters program in higher education at Northwestern.  Her research focuses on feminism and women's issues in higher education, social media use in student affairs, and on organizational management in student affairs/higher education.