Student Acknowledgement in CAESAR
In order to prevent or remove a CAESAR registration hold, you will need to read, accept, and submit the Northwestern University Student Expectations and COVID-19 Code of Conduct in CAESAR. This process affects the following student populations: Undergraduate, Graduate, Law, Kellogg (MGMT), Qatar, Non-Degree, Continuing Education, Non-Credit
Step 1:
Students can access the acknowledgement form in one of two ways; by clicking on the hyperlink in the email notification sent to your NU (or preferred) email address or by logging into CAESAR directly and clicking on the "Student Acknowledgement" tile.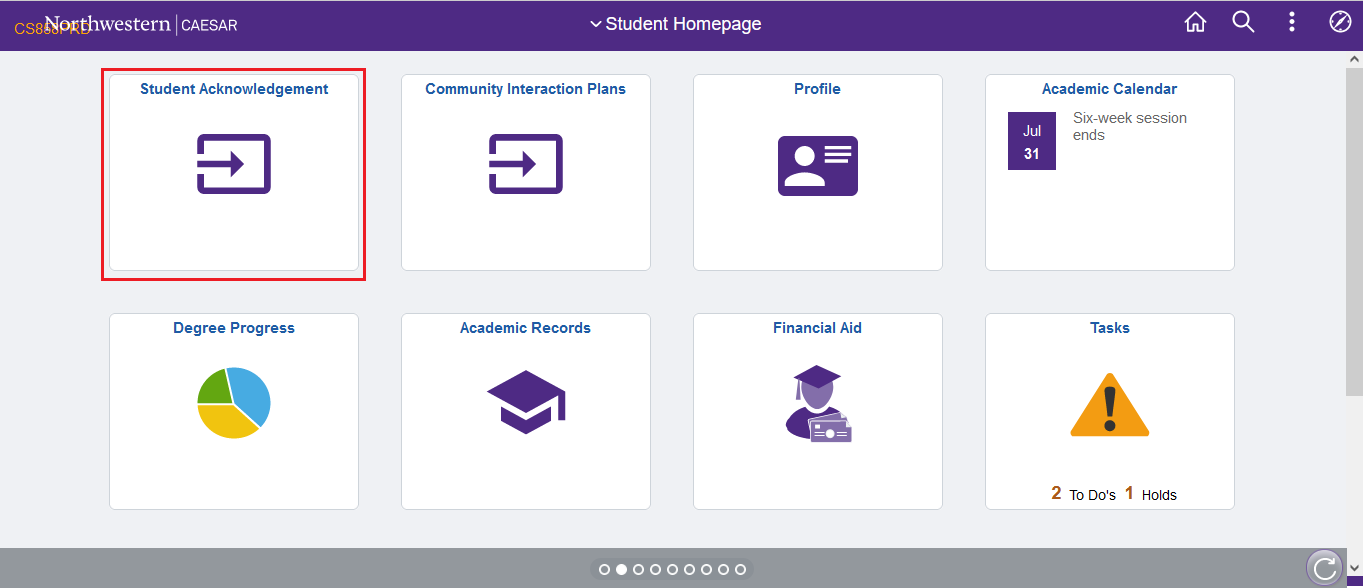 Note: Students that have completed the Fall acknowledgement form will see links for both the Fall 2020 term acknowledgement form and the Winter 2021 term acknowledgement form if they click on the "Student Acknowledgement" tab from the previous step. Please carefully select and complete the acknowledgement form for the Winter 2021 term or the there will be a registration hold placed on your account.
Step 2: 
After reading the text on the introduction page, please select the "Next" button in the top right-hand corner.

Step 3:
Please carefully read the entire student agreement and select the "I agree" button near the top right corner.  Then please select the "Next" button.

Step 4: 
Please select the "Submit" in the top right corner to finalize your acknowledgement.  You should receive a confirmation email to your Northwestern Email account (or if you do not have an NU account, your preferred email).
For questions about this acknowledgement and surrounding policy, please visit: https://www.northwestern.edu/coronavirus-covid-19-updates/