Jasmine Gurneau
Manager, Native American and Indigenous Initiatives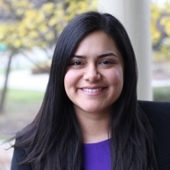 Jasmine Gurneau is a Senior Program Coordinator for Native American and Indigenous Initiatives in the Office of Institutional Diversity & Inclusion. Jasmine leads the development and implementation of university-wide initiatives related to the inclusion of Native American and Indigenous students, faculty, staff, and alumni.
Previously, Jasmine served as the Assistant Director- Native American Content Expert for Multicultural Student Affairs and Undergraduate Admission. In this capacity, she led efforts to indigenize student spaces in various ways including programming, advocacy efforts, and representation in student spaces. She developed a number of new initiatives, including the annual celebration of American Indian Day and a Native American welcome reception for first year students. For outreach and recruitment, she implemented strategies to outreach to prospective students and families with events like an Indigenous-centered Earth Day celebration and developed focused marketing materials for the university.
Raised in Chicago, Illinois, Jasmine earned a Bachelor of Arts in Sociology from DePaul University and a Master of Arts in Learning Sciences from Northwestern University.
Jasmine Gurneau, Manager, Native American and Indigenous Initiatives
Crown 1-209B, Evanston Campus
Phone: 847 467-6368
jasmine.gurneau@northwestern.edu