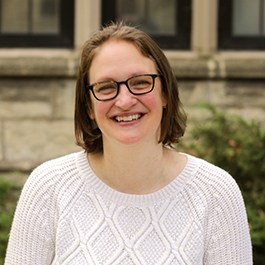 Colleen Keefe is currently the Administrative Assistant of Student Transition Experiences.  She works with the Director of Student Transition Experiences to manage the budget for the office, HR and accounting procedures, helping to connect new and transfer students with colleagues across the university, as well as specific roles during Wildcat Welcome such as coordinating volunteers and running the New Student Resource Fair. Colleen comes to this office after working in Multicultural Student Affairs where she managed student staff, communications, and facilities.

Originally from the Chicagoland area, Colleen earned a B.S. in Psychology and Spanish from Clarke College, now Clarke University, and then a Masters of Arts in International Studies from DePaul University. 

Colleen enjoys all kinds of travel from road trips to 14 hour international flights to living vicariously through others' photos, reading rom coms and sci fi, and taking walks with her growing family.