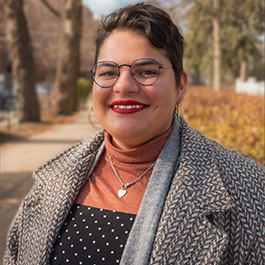 Graduate Assistant
Pronouns: They/Them
Office Address: 1936 Sheridan Road, Room 205
Where do you call home?

I have multiple homes! I was born, raised, and went to undergrad in Houston, Texas. I spend time with my dad in Poth, Texas. And I currently live in Rogers Park!

What do you do at Northwestern?

Currently at MSA I am the GA for Native American & Indigenous students. In addition to this, I am a PhD student in the Department of Anthropology exploring material embodiments of masculinity in Latinx communities in Houston, Texas!

What groups/committees/communities are you a part of at Northwestern?

I am a proud member of Northwestern University Graduate Workers, Indigenous Graduate Student Collective, Anthropology Graduate Student Association, and Comunidad Latinx.

What are you passionate about?

I am passionate about advocating for students, both undergrad and grad. I will use the positions of power I occupy to push for better treatment and safe/welcoming spaces for students. I believe that if we do not use our voices for advocacy, sit in the discomfort of pushing back, or have tough conversations about positionality then we are complicit to the institution.

What are some moments/accomplishments/projects that you have been proud of?

As a first-generation student, being here is a huge accomplishment that I'm very proud of! I'm the first in my family to leave the state and settle into a new city, which is another accomplishment that brings me pride despite how much I love Houston.

Where can you be found around campus?

I can be found in the basement-troll vibes of the Ethno Lab located in 1810 Hinman, in the welcoming and homey space of the CNAIR House, and exhausted in the line at Norris' Dunkin Donuts looking for an iced tea fix.

What do you like to do in your spare time?

In my spare time I enjoy reading a good, queer, fiction book (email me for book recs!) that I can escape into. I also like to go on walks around my neighborhood and along the lake, start a new craft project that I won't finish, and lay on the floor while listening to music!