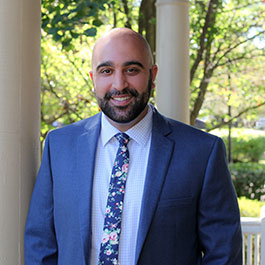 Where do you call home?

I grew up on the Northwest side of Chicago, and currently call Niles, IL home. Niles is most notably known for its 50% replica of the Leaning Tower of Pisa!

What do you do at Northwestern?

As an Assistant Director in MSA, I work to support all gender and sexual identities with an intersectional frame that promotes continued learning, exploration and reflection of one's identity in context to history, environments and communities. My work focuses on the celebration, education and advocacy of Northwestern's Lesbian, Gay, Bi+, Trans, Queer, Intersex and Asexual communities!

What groups/ committees/ communities are you a part of at NU?

Fall of 2019 is my first year at Northwestern, and I am excited to join in the collective work that continues to help Northwestern grow! Please reach out and let me know of groups you think I should know about as I begin my time at Northwestern!

What are you passionate about?

Recognizing individual and collective power and supporting communities to utilize this power to advance justice and equity while also serving as spaces of celebration and restoration.

What are some moments/ accomplishments/ projects that you have been proud of?

Stay tuned, I am just getting started! Moments of community and advancing institutional justice have been the times I cherish from my previous experiences.

Where can you be found around campus?

You can find me in my office on the first floor of the Multicultural Center, in the Gender & Sexuality Resource Center or exploring/enjoying all the other random spaces on campus!

What do you like to do in your spare time?

I enjoy spending time with family and friends, comically participating in non-competitive sports, exploring Chicago, doing community service and attempting to garden!