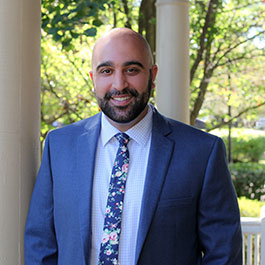 Where do you call home?

I grew up on the Northwest side of Chicago in a village called Niles (most known for its 50% replica of the Leaning Tower of Pisa next to a Costco and Aldi)! But I now live in Chicago and call Uptown home.

What do you do at Northwestern?

As an Assistant Director in MSA, I work to support all gender and sexual identities with an intersectional frame that promotes continued learning, exploration and reflection of one's identity in context to history, environments and communities. My work focuses on the celebration, education and advocacy of Northwestern's Lesbian, Gay, Bi+, Trans, Queer, Intersex and Asexual communities!

What groups/ committees/ communities are you a part of at NU?
What are you passionate about?

Recognizing individual and collective power and supporting communities to utilize this power to advance justice and equity while also serving as spaces of celebration and restoration. 

What are some moments/ accomplishments/ projects that you have been proud of?

I walked the entire Evanston and Chicago campus to create an updated all gender bathroom map for our students, employees and guests of the university. Shout out to the student that walked Chicago campus with me!
I have gotten to work with students to begin the process of creating a bigger and better Gender and Sexuality Center to me the needs of our HUGE LGBTQIA+ student population.
Wildcat Excellence Awards: Advisor of the Year 2020-2021
Worked with Residential Services team to expand All-Gender Housing options for students's
Lavendar Graduation has tripled in size since I've been here and with the same dismal budget from 8 years ago, we still make queer magic happen.
Worked with Northwestern HR about some federal obligations they needed to meet in our benefits package and updated employee intake forms.
Helping oSTEM and MENA SA become recognized student groups and watching them grow into thriving communities!
Writing of letters fo rec for student leaders I have closely worked with and seeing the epic things the have done with those opportunities!

Where can you be found around campus?

You can find me in the Gender & Sexuality Resource Center, in my office on the first floor of the Multicultural Center, or exploring/enjoying all the other random spaces on campus!

What do you like to do in your spare time?

I try to be outside as much as I can and spend time with my chosen family, but bills have to be paid and NU can't cover them so you can mostly find me working my other jobs bar-tending, substitute teaching, or doing DEI trainings, coaching, and consultations.