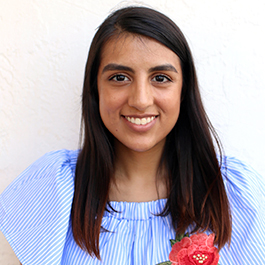 Graduate Assistant
Pronouns: she/her/hers
Email: TBD
Where do you call home? 

I was born and raised in Oklahoma. I also consider Mexico home, where my grandparents and extended family live. 

What do you do at Northwestern? 

I'm a first-year graduate student pursuing a Master of Fine Arts degree in Documentary Media within the School of Communication. I'm also a graduate assistant for Multicultural Student Affairs, where I will work to support Latinx students on campus through community engagement, student development, and support services. 

What groups/committees/communities are you a part of? 

I'm a member of Comunidad Latinx, a graduate student organization that fosters community oriented around Latinx identity, culture, and history. 

What are you passionate about?

I'm passionate about using non-fiction modes of media to explore Latinx culture and identity in the United States, as well as foster anti-racist and intersectional solidarity amongst all BIPOC communities, nationally and internationally. 

What are some moments/ accomplishments/ projects that you have been proud of?

A project that I'm proud of is a documentary short film that I made as an undergraduate titled Todo Esto y Mas, exploring the ways in which three art students of Latinx descent pay homage to and are inspired by their heritage and culture. It was screened at the 2020 OKCine Latino Film Festival in Oklahoma City, Oklahoma, where it won the award for Oklahoma Focus Film. 

Where can you be found on campus? 

Since moving here, I've spent a lot of time at the lakefill either biking, walking, sitting outdoors reading, or just gazing at Lake Michigan. In the future, if safety measures allow, you may find me studying in the Multicultural Center (MCC), or at Annie May Swift Hall editing a project or chatting with my professors and peers in the Radio Television Film Video (RTVF) department. 

What do you like to do in your spare time? 

I cherish spending time with friends and family. During the pandemic, that has often looked like socially-distanced coffee dates or walks. I also really enjoy watching documentaries, cooking, biking, and cuddling with my cat Catrina.