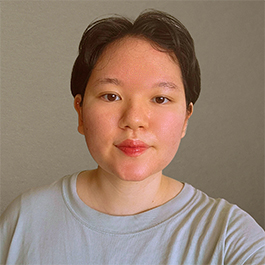 Graduate Assistant
Pronouns: (She, Her, Hers)
Office Address: Multicultural Center, 1936 Sheridan Rd, Evanston, IL 60201 and 1999 Campus Drive (Norris Center) 3rd FL, Gender and Sexuality Resource Center
Email: grace.park2@northwestern.edu
Phone: 
Where do you call home?

Home, location-wise, is Niles; I was raised here on the same block for over a decade, and even after I've spent several years living in Urbana-Champaign, my journey has led me back here. Home, people-wise, is scattered all across the country and world; San Diego, Seattle, New York, Seoul, etc.

What do you do at Northwestern?

I'm a graduate assistant with Multicultural Student Affairs, specifically working with APIDA (Asian, Pacific Islander, Desi American) scholars! And until very recently, I was the graduate assistant for this year's Summer Academic Workshop (SAW)-- much love to this year's cohort of counselors, participants, facilitators, and planning committees.

What groups/ committees/ communities are you a part of at NU?

I have very recently joined the APIDA Staff Affinity Group (ASAG); since I'm still new to Northwestern, I hope that my answer to this question around community continues to evolve as I get to know more!

What are you passionate about?

Storytelling. I believe that nuanced storytelling can speak life into the world, and that through telling stories, we create a greater understanding of our own selves and move towards a more healed collective consciousness.

What are some moments/ accomplishments/ projects that you have been proud of?

I've been very proud of this year's SAW-- incredibly proud of everyone who came together to make things happen in a year with lots of transitions.

Where can you be found around campus?

I'm usually at the Multicultural Center (2nd floor) or around Garrett's campus for class. Please feel free to drop by if you're able!

What do you like to do in your spare time?

I'm usually at my local public library reading (#saveNileslibrary), or procrastinating on some graphic design projects by watching art studio vlogs, dance videos, and vegan recipe developers.