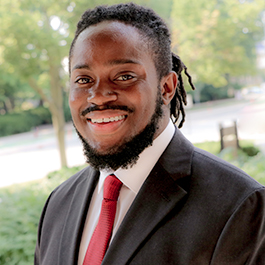 Assistant Director
Where do you call home? 


I was born and raised in Aurora, Colorado. But I am happy to call Chicago my new home! 

What do you do at Northwestern? 

I will be working primarily to provide salient, powerful, and authentic resources for historically marginalized students on Northwestern's campus. I will specifically be serving students who identify across the Black and African Diaspora.  

What groups/ committees/ communities are you a part of at NU? 

Multicultural Student Affairs (MSA) and Campus Inclusion & Community (CIC) 

What are you passionate about? 

I am extremely passionate about student advocacy and uplifting marginalized voices both on campus and in the community. I likewise am a firm believer in the power of global networking in the fight for equity/inclusion across the world.  

What are some moments/ accomplishments/ projects that you have been proud of? 

One of my proudest moments was speaking in the United Nations Conference Center (Bangkok, Thailand) at a Humanitarian Affairs Asia Summit. I was able to speak about the Black American experience and the importance of global solidarity while BIPOC folks are pushing back against oppression in their home countries.  
I am also extremely proud to have interviewed THE Dr. Angela Davis during The University of Chicago's 2021 Juneteenth celebration.  

Where can you be found around campus?  
What do you like to do in your spare time? 

When I am not in the gym or working out from home, you will find me riding my bike around the South Side and stopping by small local spots to eat!