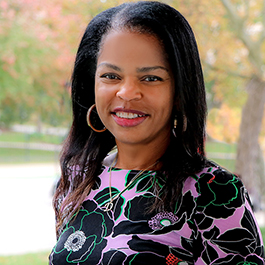 Administrative Assistant
Pronouns

: She/her/hers

Office Address (Building and Room)

: Temporary Black House (1856 Orrington), Room 107

Email

:

d-nwankpa@northwestern.edu

      

Phone

: 491-8064
Where do you call home?

 

What do you do at Northwestern?

 I work as the administrative asst. in MSA. I work with budgets, advising, and overall sage as needed. 

What groups/ committees/ communities are you a part of at NU?

 

ANUW, BPN, CIC Onboarding and Development, FUBU, A People's Timeline (MSA), Supporting Black Womxn,  

What are you passionate about?

 

Voices being heard and not erased. 

What are some moments/ accomplishments/ projects that you have been proud of? 

I have many personal things that I am proud of…but by far and the best – are my children. Amazing people in their own right. Second is just the many relationships I've built throughout the years at NU and beyond. I'd also add being asked to be a Keynote at The JOY 2014 & 2016.

Where can you be found around campus? 

Definitely the Black House. 

What do you like to do in your spare time?

 

I love to cook, read, eat, sleep, and quality time to reflect and think. In my spare time, I also love to draw and write short stories.