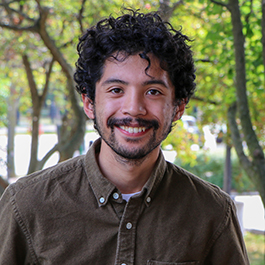 Graduate Assistant
Pronouns: 
Office Address: Multicultural Center, 1936 Sheridan Rd, Evanston, IL 60201 and 1999 Campus Drive (Norris Center) 3rd FL, Gender and Sexuality Resource Center
Phone: 
Where do you call home?

For me, home is Chicago and the broader Chicagoland area. I was born in Aurora, grew up in Plainfield, and attended college in Wheaton – all Chicagoland suburbs. I spent a season living on the Southside of Chicago. Now, I attend graduate school in Evanston. I enjoy the prairie and forest preserves of the suburbs, but I also love the energy of the city and the diverse cultures of its neighborhoods. 

What do you do at Northwestern?

Currently, I am the graduate assistant for Latinx students. I am also a graduate student studying Christian liberation theology at Garrett-Evangelical Theological Seminary, the United Methodist graduate school on NU's campus. 

What are you passionate about?

I am deeply committed to embodying ways of life that attend to those living on the margins of our communities and work towards building cultures of belonging and inclusivity. 

What are some moments/ accomplishments/ projects that you have been proud of?

During college, I helped organize a lecture series titled "can you talk about race?". We invited faculty to talk about how race is discussed within the disciplines of philosophy, theology, anthropology, and sociology. It was amazing to see students discuss the significance of race and search for how racism and white supremacy could be resisted within college spaces. 

Where can you be found around campus?

You can usually find me working in the MCC or the Black House.  

What do you like to do in your spare time?

Outside of work, I enjoy reading and writing, going on hikes, riding my bike, skateboarding, or spending time with friends and family.