Pointing the Way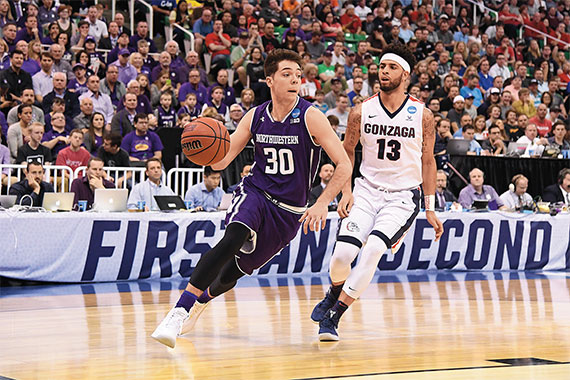 Bryant McIntosh was named to the 10-member Preseason All–Big Ten Team in October.
As a freshman, Bryant McIntosh knew Northwestern would make the NCAA Tournament. It wasn't a matter of if, but when.
"I had a lot of confidence in us, so I thought that once we grew up, we would be a really dynamic group," he says. "I think we've lived up to that billing."
McIntosh, part of head coach Chris Collins' first recruiting class, has played a major part in turning around the program. In his three years in Evanston, the point guard is the program's career leader in assists and likely will crack the top five in points scored.
"If you're going to have a great program, you need to have an outstanding point guard," Collins says.
In his junior season, McIntosh helped the Wildcats to their first NCAA Tournament, leading the team in scoring and assists. It was not an easy task, though. McIntosh struggled at times as he dealt with some "off-court battles." In January, Collins invited McIntosh to his house. After a long, emotional talk, he said his coach "revived" him.
"I was able to find the joy in the game that we both love," McIntosh said. "It's a credit to his leadership and understanding of his players that he could do that."
For the remainder of the season, McIntosh carried the team offensively, including a 25-point outburst in a signature win over Wisconsin in Madison in February. A month later, the team had made the NCAA Tournament.
McIntosh never will forget the moment he took the floor at Vivint Smart Home Arena for the Wildcats' opener against Vanderbilt. He couldn't help but notice all the purple in the stands. "To see everyone supporting us, you get a little nervous," he says, "but then the ball is tipped, and it's time to just do what we've been doing all year."
McIntosh scored a game-high 25 points, including a pair of clutch free throws in the final 20 seconds to put Northwestern ahead for good.
"When we got on that stage, the biggest stage we've ever been on, it was no surprise to me that he was the guy to lead us because he's made for those moments," Collins says.
Statistically, McIntosh is already one of the most accomplished players in program history, but he wants his legacy to be more than box score numbers.
"I want people to remember that I was part of the team that changed the perspective of Northwestern basketball," he says. "I think I can say that I've done that so far, and I want to continue to push the bar even higher."
Tell us what you think of the magazine in a short online survey by Jan. 31, and you'll be entered to win an iPad.
E-mail comments or questions to the editors at letters@northwestern.edu.