Jacob and John Ruby: Problem Solvers
by Anna Waters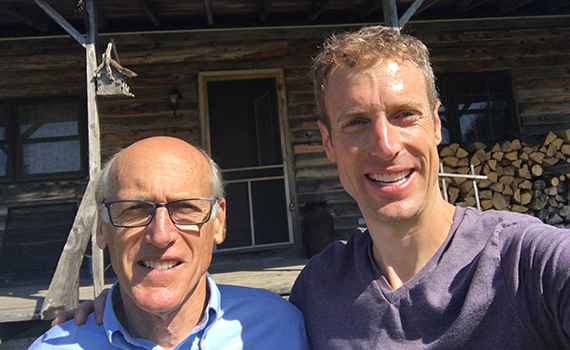 Actor and producer John Ruby, right, with his father, Jacob, on the set of the film Solver in upstate New York

Actor John Ruby '00 produced and stars in Solver, an independent mystery-adventure film about a young man who arrives at his late grandfather's cabin only to discover a mysterious puzzle leading to a dangerous secret. "Think The Goonies meets an escape room," says Ruby.
When John, who has appeared in the television shows Cougar Town, Happy Endings, Key & Peele and Castle, needed help with props like a replica Enigma machine, he knew whom to call — his dad, Jacob Ruby '67. "He's the handiest guy I know," John says. The Enigma replica turned out so well that John asked his father to come to the set to help out.
Before they started their drive last July from Jacob's home in Pewaukee, Wis., to Rochester, N.Y., where the film is set, John realized he still needed some props, including a mailbox. His father rummaged around in his basement and found a mailbox he'd been holding onto for 30 years, which ended up in the opening shot of Solver. 
"If a door squeaked, my dad was there with oil," John says. "He was so helpful and supportive, working 16-hour days with us on set and always listening if I needed to vent. He was so integral on set that instead of calling him the prop master, we all started calling him the 'Popmaster.'" 
John's acting career had an unconventional start. At Northwestern he was a German major with a minor in business institutions and not at all involved in campus theater. After graduation he worked in consulting but soon realized his true passion — acting. In 2002 he moved out to Los Angeles to pursue an entertainment career. One of his early career highlights included a role alongside Kate Hudson in You, Me and Dupree, though his scene was cut out of the final film. 
After a series of roles in other people's television shows and films, John wanted to create something on his own. He met Jack Kelley, an aspiring filmmaker, and they discovered a mutual love for adventure movies like The Goonies and National Treasure and began working on their own film screenplay. 
Solver fans can follow the film's Facebook and Instagram pages. Leading up to the release of the film, the film's producers are collaborating with puzzle creators around the country for an online Puzzle Hunt. Anyone can participate and try to solve a series of posted puzzles, beginning Dec. 1. Fans can win prizes if they solve the entire puzzle. 
The film will be screening in select theaters in January and will be available on iTunes and Amazon on Jan. 29, which is National Puzzle Day.
Anna Waters is a senior journalism major from San Jose, Calif.
Tell us what you think of the magazine in a short online survey by Jan. 31, and you'll be entered to win an iPad.
E-mail comments or questions to the editors at letters@northwestern.edu.