Mailbox
MORE Documentary Filmmakers
As a documentary filmmaker I was excited to see the article "The Inside Story" [fall 2013] about alumni documentary filmmakers. But after reading the story, I was disappointed that it focused mostly on similar types of personal or social-issue documentaries that you might see on PBS, when today the documentary landscape has changed so much and the outlets and audiences for documentaries are so broad.
Recent documentaries made by friends and colleagues have been about real-life superheroes, kids who pursue magic as a way to express themselves and the "Donkey Kong" championship, and my new documentary, Going Attractions, is on drive-in movie theaters. None of these are heavy social-issue films, and yet they've received theatrical distributions and been picked up by networks like HBO and Showtime. There's also a huge amount of television-based documentary programming today. 
I love all documentaries, including those that shed light on an important social issue, but I think it's important for people to expand their definition of what is a documentary and realize there are many types of documentaries that can be commercially viable and entertaining.
April Wright (KSM92)
Los Angeles
Thanks for the nice feature about alumni documentary filmmakers, including my friends and colleagues Joanna Rudnick (WCAS96) and Gita Pullapilly (GJ00). I am currently completing my third feature-length documentary, which is about Chicago's own Nelson Algren, the acclaimed writer of The Man with the Golden Arm and Chicago: City on the Make.
We have interviewed friends of Algren, including filmmakers William Friedkin, Philip Kaufman and novelist Russell Banks. We have also interviewed scholars and fans of Algren, including Northwestern literature professor Bill Savage (G88, 92), musician Billy Corgan and novelist Stephen Elliott (GC96).
Prior to this film I directed Stones from the Soil, a personal documentary about my father and his journey from Nazi Germany, which aired on PBS in 2005.
Since earning my master's in radio/TV/film in 1992, I produced three award-winning feature films, including The Night Larry Kramer Kissed Me. I am also a professor at Columbia College Chicago in the Cinema Art + Science Department, where I teach documentary, producing and storytelling.
Michael Caplan (GC92)
Chicago
You missed Stephanie Wang-Breal (WCAS99), an important documentary filmmaker — and mother of two — who has made two films on the dynamics of families in flux. Her first film, Wo Ai Ni Mommy, follows an adoption from China. She is currently editing her second film, Tough Love, on families navigating the child welfare system in Seattle. 
Nicholas Soulakis
Assistant Professor
Feinberg School of Medicine
Chicago
Thank you for spotlighting documentary filmmakers. I too am a documentarian. I've produced and directed 11 documentaries. (I was an actress in those days. Lilla Heston [C49, GC58, 65] and Frank Galati [C65, GC67, 71] were my advisers. Lucky me!) 

I'm currently finishing my 12th film, Reel Herstory: The Real Story of Reel Women, hosted by Jodie Foster. The film documents the extraordinary achievements of women in the film business since 1894. The film is based on my books, Reel Women: The First Hundred Years, a two-volume edition that spans 1896–2010.
I produce and write under the guise of my company, Reel Women Media, which has been in business for 20 years.


Ally Acker
 (C76)
Roslyn Heights, NY
I don't fit the profile of the career, full-time documentarians you featured in the fall issue of Northwestern, but there alumni like me who produce other kinds of documentaries. I didn't go to film school — my Northwestern bachelor's degree was in print journalism — and I don't usually enter film festivals, though some PBS stations have broadcast some of my programs. But since the 1980s I've produced (or written, edited, filmed, directed or all of the above) around 30 ethnographic and educational films about Asia, targeted toward students in classrooms. When we can we provide not only a film but also study guides and supplementary print and media materials. My team's most recent production was Can't Go Native? (2011).
Until I retired a dozen years ago I regarded filmmaking as just one of my lines of professional practice — my appointment was as professor of anthropology and Asian studies at the University of Illinois at Urbana-Champaign. I did my teaching with a camera as well as with a blackboard.
David W. Plath (J52)
Savoy, Ill.
Editor's note: Read more about Northwestern alumni documentary filmmakers in "Further Viewing."
Top 10 Athletes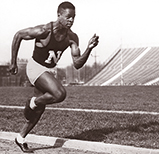 Thanks for the story on top Northwestern athletes ["Top Cats," fall 2013]. As well versed as I am in Northwestern sports history, I must confess to never having heard of sprinter James Golliday (C54). That was a lot of ups and downs for a six-paragraph biography, ending with the tragic coda, "He died of pneumonia in 1971 at age 39." I would love to know more about him.
It was also nice to see Otto Graham (SESP44) get such strong recognition. In 1993 I had the good fortune of interviewing him for a book I was writing on pro football, Rugged and Enduring, and our conversation drifted to Wildcat football. He told me he feared we'd never be good again. Two years or so later, I ran into him at the 1996 Rose Bowl, and he told me he was never so happy to be wrong.
David Cohen (J85)
Rockville, Md.
My vote for Northwestern's greatest athlete goes to swimmer Amy Balcerzak Field (WCAS00).
I was Amy's teaching assistant for a freshman-level physics course. She was one of the few students who really cared about learning, rather than just about grades. Actually, she was one of the reasons that I found the strength to prepare for classes. We also had friendly chats, and during one of those I was surprised to learn that she was also a very successful athlete. I was surprised because, before meeting her, I had never seen anyone combine an athlete's and a student's life without compromising either.
Mehmet Gürkan (G05)
Leiden, Netherlands
Why is Alex Sarkisian (C49) not on this list? Captain of the 1949 Rose Bowl Team, All-American, College Football Hall of Fame inductee and a player on the most famous Wildcat team of all time. Did you forget?
George J. "Joe" Bunda (SESP65)
Gretna, La.
I enjoyed the story on the top 10 Northwestern athletes but was surprised that tennis player Marty Riessen (SESP64, GSESP67) didn't make the list. 
Mike Allen
San Diego
Regarding your story on great Northwestern athletes, you need to have some fencers in the mix. I am sure there has been at least one!
Alan Buchwald (WCAS72, G72)
Santa Cruz, Calif.
Passings
I recently received the fall issue and was very dismayed by what I and many others felt was an irreverence and total slight shown a distinguished, influential and dedicated Northwestern graduate. Your death notice simply stated: Barry J. Lind (EB60), Winnetka, Ill., Jan. 24.
Lind was a giant and pioneer in the financial world as the founder of one of the largest discount futures brokerages in the nation. He wrote a textbook on commodity trading.
Northwestern showed no respect to an alumnus who donated so much of his time and financial assistance to the University and who provided so many jobs to students and graduates.
Gerald "Jerry" Gillett (WCAS59)
Beachwood, Ohio
Veterans on Campus
Concerning "A Support Base" [Our World, Campus Life, fall 2013, page 8], things were the same and things were different when I arrived on campus in June 1971 after 16 months in Vietnam. I knew two others in the master's program at Medill with Vietnam experience. None of us had special needs, and I was not aware of any program or organization specifically for veterans. That was OK by me; I just wanted to embark on my new career, which the Medill graduate program certainly helped me do. We had the GI Bill, a monthly payment and the state of Illinois paid a one-time veteran's bonus. There was no Northwestern University Veterans Association, but I didn't need it.
Craig Wyatt (GJ72)
Rockford, Ill.
Northwestern welcomes signed letters of 250 words or fewer from readers. We reserve the right to edit all letters. Please send correspondence to the
Editor
Northwestern
1800 Sheridan Road
Evanston, IL 60208-1800
Fax: 847-491-3040
E-mail: letters@northwestern.edu