Taking the Lead
Jared Brown (McC05), president of the NU Club of Seattle, attended his first Northwestern Alumni Association Leadership Symposium in 2011. As the only representative from a club still trying to find its footing, he arrived on the Evanston campus alone — yet he admits to being accompanied by more than a little apprehension about the club's future success.
"I came here assuming our club was different from the others — that we were just this small club off in the Northwest with all these difficulties," he says. "Turns out, we were facing the same challenges that a lot of other clubs have overcome."
Buoyed by the chance to compare notes with fellow volunteer leaders from all over the country, Brown returned to Seattle and presented his board with a list of ideas that they used to set their club's concrete goals.
The club started by streamlining its communications, condensing what had been an unwieldy slew of emails into a monthly e-newsletter supplemented with Facebook reminders. Next, the board focused on adding incentives for membership. The board raffled off a football signed by Wildcats coach Pat Fitzgerald (SESP97) to members who attended game watch parties. The club also hosted its first-ever members-only event — a gin tasting at Letterpress Distilling, which is owned by Gene Shook (McC86).
"The result is a board that works more smoothly and a membership base that feels invested in the club," Brown says.
And he noted another result: NU Club of Seattle membership has "exploded" from 35 to 110 alumni. So it should be no surprise that when Brown returned to Evanston for Leadership Symposium 2012, he was no longer accompanied by doubt but instead by four other NU Club of Seattle officers.
For Cliff Garstang (WCAS75) — co-chair of the NAA's Leadership Development Committee, which helps plan and coordinate the conference — stories like Brown's are what the Leadership Symposium is all about.
"This year our theme was 'One Team, One Northwestern — Cooperation, Collaboration and Coordination,' " Garstang says. "What we want everyone to take away, whether they're leaders in local clubs or national clubs or volunteers in some other capacity, is that we're all part of Northwestern and we need to work together. There are lots of synergies that we can explore, whether it's between clubs or involving volunteers in other activities."
Taking place over two full days in mid-September, Leadership Symposium 2012 drew 145 registrants. Most were representatives of local and national clubs, though Garstang says the committee has recently sought to include other alumni volunteers not associated with clubs, such as hosts of the Dinner with 12 Strangers program, board members of A Day with Northwestern in Evanston and members of the Alumni Admission Council.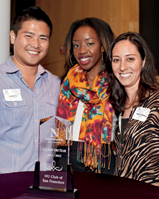 The symposium featured breakout sessions on topics such as social media, club revitalization and club scholarships, as well as presentations from notable University figures, including Kelly Amonte Hiller, coach of the Wildcats' seven-time national champion women's lacrosse team; Todd Murphy (GC04), associate director of the Center for Leadership; and Devora Grynspan (WCAS76, G83), director of the Office of International Program Development. The second day of the conference was highlighted by a joint luncheon with President Morton Schapiro and Northwestern's Board of Trustees — a welcome opportunity to collaborate with University leadership.
President Schapiro, who was integral in bringing the alumni volunteers and trustees together, told the attendees, "You're all leaders, you're all great representatives of our fantastic University, and you should all have this chance to get together."
The alumni volunteers clearly relished the chance to do just that, as they made the most of the opportunity to tap into a more familiar resource — one another.
"Everyone has a lot of ideas, but actually executing the plan is challenging," says Elizabeth Klodd (GMcC09), head of philanthropy and event planning for the NU Club of Boston. "It was wonderful to hear other club leaders' ideas about how to split up the work."
"I've learned that we all have similar challenges," added Kathryn Martin (WCAS09), communications director for the NU Club of Philadelphia. "I just heard a great presentation about how the club in Detroit had disbanded but then was able to get back together. It's like a cheerleading pep rally for everybody."
Tell us what you think. E-mail comments or questions to the editors at letters@northwestern.edu.
Ever wonder about those strange designations we use throughout Northwestern to identify alumni of the various schools of the University? See the complete list.