Passings
JAMES FARLEY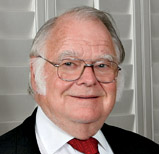 James N. Farley (McC50), 83, Paradise Valley, Ariz., Aug. 22. An engineer and entrepreneur, Mr. Farley turned a small Des Plaines, Ill., manufacturing company into an international corporation. He led SpeedFam–Integrated Process Equipment Corp. until his retirement in 2002. Over the course of 25 years, Mr. Farley and his family supported the McCormick School of Engineering and Applied Science with nearly $22 million in donations. In 2001 Mr. Farley and his wife, Nancy, donated money to name a wing in the Technological Institute and donated 10 machines to create the Undergraduate Machining and Prototype Lab. The Farleys also endowed the Farley Center for Entrepreneurship and Innovation. His children established a scholarship in his name in 1998. Mr. Farley is survived by his wife, Nancy; daughters Sarah Farley Huskey (GC82) and Barbara; sons Timothy, James and Stuart; 16 grandchildren, including Meghan Farley (WCAS05); and two great-grandchildren.
JERRIE FOWLER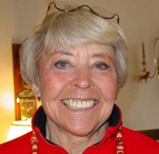 Geraldine "Jerrie" Kriegel Fowler (C52), 81, Crystal Lake, Ill., May 14. During a career in film, Mrs. Fowler worked with Alfred Hitchcock as a script supervisor on North by Northwest. She also worked with John Hughes as an assistant editor, film editor and assistant director on some of his biggest hits of the 1980s and '90s, including Home Alone, Uncle Buck, The Breakfast Club, Sixteen Candles, Ferris Bueller's Day Off and Planes, Trains & Automobiles. She was a member of the Directors Guild of America for 47 years as a first assistant director. Mrs. Fowler, who lived in Highland Park, Ill., and wintered in Vail, Colo., for many years, was also a pioneering skier. She worked with the Chicago Ski Show and raced with the Chicago Metropolitan Ski Council. Mrs. Fowler directed the Wilmot Mountain Ski Patrol in the 1970s, when the industry was largely male-dominated, and served as a member of the National Ski Patrol. In the 1960s she used her film skills to create a recruitment film for the National Ski Patrol System. A proud, purple-wearing alumna, Mrs. Fowler attended many Northwestern football games. She also collected and restored antique brass, turning it into lamps, candlesticks, furniture and other creative objects. Mrs. Fowler is survived by a niece, Katherine, and nephew, Francis.
SHEILA GADSDEN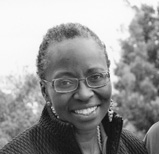 Sheila Gadsden (J79), 54, San Francisco, Aug. 19.  A superb researcher, writer and editor, Mrs. Gadsden worked for Women's Day magazine in New York and then moved to San Francisco, where she lived for more than 30 years.  Throughout the 1980s and '90s she worked for a variety of local and national publications as a staffer and freelancer, including Travel & Leisure, San Francisco Business Times, Advertising Age, San Francisco Focus, Motorland and the Examiner. Mrs. Gadsden also worked to expand educational opportunities for young people. She served as a trustee for the San Francisco Day School and Lick-Wilmerding High School and participated on committees about diversity, access to education and expanding the public mission for private education. She is survived by her husband, John Crew (SESP79), and two daughters, Simone and Erica. 
Edgar Garbisch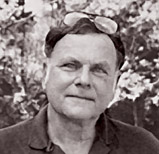 Edgar W. Garbisch Jr. (G61), 79, South Woodstock, Vt., July 3. When most people saw wetlands as useless, underdeveloped land, Mr. Garbisch recognized their true value as vital ecosystems. In 1972 Mr. Garbisch left his professorship at the University of Minnesota and returned to his childhood home on Maryland's Eastern Shore to become founder and president of Environmental Concern, a St. Michaels, Md.–based nonprofit organization dedicated to the construction and preservation of wetlands. He pioneered "nonstructural shoreline control," a marsh construction technique. Mr. Garbisch — affectionately called "the grandfather of wetlands" — collected seeds of native marsh grasses and propagated them in the EC greenhouse. Before retiring in 2005, Mr. Garbisch shifted his focus to the educational side of wetlands development. He is survived by his wife, Joanna; a sister, Gwynne; a daughter, Josi; a son, Leif; and four grandchildren.
BEN HEINEMAN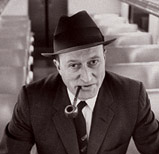 Ben W. Heineman Sr. (L36, H67), 98, Chicago, Aug. 5. A leading lawyer turned multifaceted business executive, Mr. Heineman transformed Chicago's commuter railway system and then turned his attention to local and national civic issues.
After graduating near the top of his Northwestern law class and serving as editor of the law review, Mr. Heineman became a prominent corporate lawyer in Chicago. In 1951 Illinois Gov. Adlai Stevenson (L26) tapped Mr. Heineman as special assistant attorney general to investigate alleged cigarette-tax fraud by former members of Al Capone's gang.
When Mr. Heineman became CEO of the Chicago and North Western Railway in 1956, he quickly modernized operating methods and transformed Chicago's commuter rail service into a national model. In response to Mayor Richard J. Daley's complaints about smoke and fumes from the steam engines, he converted the fleet to diesel.
Inspired by Chicago's lakefront preservation, Mr. Heineman negotiated the sale of 66 acres of Chicago and North Western lakefront property to Milwaukee County — despite bids from private investors — with the promise that the parcel would remain public.
Mr. Heineman formed Northwest Industries and branched out to other industries, including insurance, steel, clothing and chemicals. He arranged the sale of the railroad to its employees in 1972 and retired from his position as CEO in 1985.
Active in politics, Mr. Heineman served as a speechwriter for Stevenson's presidential campaign, occasionally attacking McCarthyism. During Lyndon Johnson's administration, he served as an adviser on civil rights, government reorganization and welfare.
Mr. Heineman and his wife, Natalie, enjoyed sailing their 62-foot boat on Lake Superior. In 2006 they donated their collection of glass sculptures, valued at nearly $10 million, to the Corning Museum of Glass. He is survived by his children, Martha and Ben; six grandchildren; and two great-grandchildren.
Donal Henahan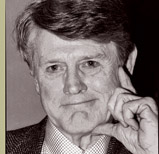 Donal J. Henahan (J48), 91, New York City, Aug. 19. Witty insights and forceful opinions made Mr. Henahan both a Pulitzer Prize–winning music critic and provocative commentator for the New York Times. Mr. Henahan won numerous combat medals as a fighter pilot based in Britain during World War II. After the war he enrolled at Northwestern and in 1947 began work at the Chicago Daily News. He became chief music critic a decade later and joined the New York Times in 1967. He became the Times' chief music critic in 1980, penning concert, recital and opera reviews as well as long-form essays for the Times' Sunday Arts and Leisure section. Mr. Henahan, an accomplished pianist and classical guitarist, won the Pulitzer for distinguished criticism in 1986. He retired in 1991. He is survived by his wife, Michaela.
Ora McKinney Higgins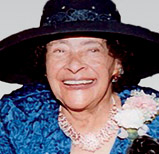 Ora McKinney Higgins (SESP46, GSESP51), 101, Sun City, Ariz., July 25. A trailblazer for racial integration in Chicago, Mrs. Higgins became the first African American personnel director at Spiegel, a large mail-order retailer, and organized integration efforts for the company in the mid-1940s. During the '50s she helped with the integration of Chicago's Loop department stores and theaters. She also taught classes on workplace dress and conduct at Dunbar Vocational Career Academy on the South Side. She later started the Ora Higgins Youth Foundation to provide scholarships to needy students. She is survived by a son, William; a daughter, Murrell; 13 grandchildren; 26 great-grandchildren; and three great-great-grandchildren.
Bill Jauss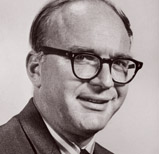 William C. Jauss (J52), 81, Wilmette, Ill. A Chicago media legend, Mr. Jauss enjoyed a 50-year career as a Chicago sportswriter, including 37 years with the Chicago Tribune. Not limited to the printed word, Mr. Jauss became a regular panelist on the show The Sportswriters, which began on WGN Radio in 1975 and moved to television in 1985. He retired from the Tribune in 2005. Mr. Jauss, who lived just north of Ryan Field for nearly 50 years, played football for the Wildcats as a reserve guard during the 1950 and 1951 seasons. He also served as an adjunct lecturer in journalism from 1964 to 1979. He is survived by his three children, Ginny, David and James, and five grandchildren.
Check out Medill Magazine's 2004 profile on Jauss, "The Sportswriter."
GEORGE McGOVERN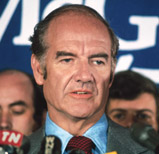 George McGovern (G49, 53, H67), 90, Sioux Falls, S.D., Oct. 21. A statesman, historian and humanitarian, Sen. McGovern served three terms in the U.S. Senate and won the 1972 Democratic nomination for president on his fervent opposition to the Vietnam War. He carried only Massachusetts and Washington, D.C., and lost to President Richard Nixon.
Sen. McGovern served two terms in the House of Representatives before being named the first director of the Food for Peace Program by President John F. Kennedy in 1960. He represented South Dakota as a Democratic senator from 1963 to 1981.
In 1965 Sen. McGovern visited then–South Vietnam, and the carnage he saw there convinced him that the United States should end the conflict. He became an ardent antiwar leader, seeking legislative means to end the war.
The son of a Methodist minister, Sen. McGovern was born in the farming community of Avon, S.D., and and grew up in Mitchell, S.D. His family struggled financially, and he developed a lifelong sympathy for struggling workers that would impact his political career.
He joined the military shortly after the attack on Pearl Harbor. He flew 35 combat missions as a B-24 bomber pilot in Europe and was awarded the Distinguished Flying Cross.
After the war he finished his undergraduate degree at Dakota Wesleyan, where he later taught. He earned his master's and PhD in history at Northwestern, where he also studied at Garrett-Evangelical Theological Seminary and served as a student minister.
In recent years Sen. McGovern focused on world hunger and AIDS. He was appointed the United Nations' first global ambassador for hunger in 2001. President Bill Clinton awarded him the Presidential Medal of Freedom, America's highest civilian honor, in 2000.
Sen. McGovern occasionally returned to Northwestern, including in 2000, when he delivered the Richard W. Leopold Lecture, and in 2008 for A Day with Northwestern.
He is survived by daughters Ann, Susan and Mary and several grandchildren.
Ethel Merker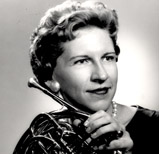 Ethel Merker (BSM46, GBSM47), 88, Chicago Heights, Ill., July 12. A distinguished French hornist and pioneering woman in the 1940s' world of music, Ms. Merker performed with symphonies, operas and ballets worldwide. She played in radio and TV jingles for brands such as Budweiser, McDonald's and United Airlines and recorded with or backed up countless artists, including the Jackson Five, Barbara Streisand and the Rolling Stones. Johnny Mathis called Ms. Merker his favorite horn player. Ms. Merker, who taught briefly in the early 1960s at Northwestern, helped design the Merker-Matic French horn for musical instrument manufacturer Holton in the 1990s. She is survived by two nephews.
BONNIE PICK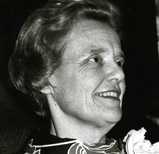 Bonnie H. Pick (BSM46, GSESP52), 87, Glenview, Ill., May 31. A devoted Northwestern alumna, Ms. Pick served as a member of the Alumnae of Northwestern board of directors for several years and on the committee for the organization's annual NU-Day in the early 1980s. She was also the Bienen School of Music Alumni Association's vice president for giving. She received a Northwestern Alumni Association Service Award in 1983. Ms. Pick worked at Northwestern and oversaw the women's intramural department and served as the production adviser and coordinator for the Dolphin Show. Earlier in her career she founded Bonnie Pick Pictures, a film production company in Northfield, Ill., and co-produced a piece on realist painter Carl Von Marr and the On Tennis series on Billie Jean King. Ms. Pick is survived by nieces Linda Hill Bein (C62) and Prudence Pick Hway (WCAS68).
Bob "Toots" Tootelian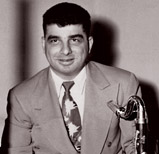 Robert J. Tootelian Sr. (BSM48, GBSM49), 89, Lincolnshire, Ill., July 3. A master of woodwinds, Mr. Tootelian spent 35 years as a pit musician at Chicago's Shubert Theatre, playing more than 10,000 performances in more than 100 musicals by his count. When the Shubert took a break for a few months in 1976, Mr. Tootelian toured with Frank Sinatra, helping him warm up before each performance. He also played the baritone sax on the Crew-Cuts' 1954 hit "Sh-Boom." Mr. Tootelian recorded many commercial jingles over the years, but he may be best known for the three deep notes he played on the bassoon in the long-running Green Giant commercial. Mr. Tootelian, a World War II veteran, is survived by his wife of 60 years, Elayne Novotny Tootelian (BSM52); a son, Robert Tootelian Jr. (SESP76); a daughter, Nancy; a brother, Richard Tootelian (CB50); and four grandsons.
Tell us what you think. E-mail comments or questions to the editors at letters@northwestern.edu.
Ever wonder about those strange designations we use throughout Northwestern to identify alumni of the various schools of the University? See the complete list.